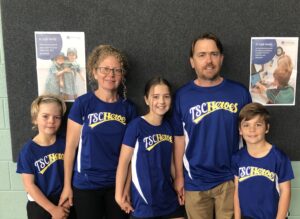 Thank you to the Chalk Family for hosting a launch of TSA's latest information resources, " In Safe Hands". On Monday 29 March 2021 at Blackmans Bay Primary School, Tasmania a special school assembly was held in honour of Caleb Chalk who attends the school and lives with TSC.
Both Caleb and his big sister Jemima spoke eloquently about their TSC journey and Miriam, their mother shared how much these resources will help families living with TSC.
These resources ensure families and educators have access to accurate, up-to-date digital information to help children with this devastating disease be 'in safe hands' during their schooling years.
You can read and download these resources by clicking the below links.
How to be a good advocate for your child with TSC at school is for families of a child with TSC.  It discusses topics such as:
Finding the school setting that best fits your child's needs – mainstream versus supported settings
Epilepsy and seizure management
Individual education plans (IEPs)
Special considerations for high school
Your relationship with your child's school – including helping the teaching team understand TSC, giving them the information they need, adapting to staff changes and involving your child and your child's classmates.
The guide includes quotes and advice from parents of children with TSC who have already navigated the school system and provides practical templates and sample documentation.
An introductory guide to Tuberous Sclerosis Complex (TSC) for teachers and educators is the companion resource that will help teaching teams understand TSC and provide insights into the learning challenges a child living with TSC might face. These challenges can include cognitive difficulties as well as behavioural, mental health and physical challenges. It advocates that a team approach provides the best learning model for a child with TSC.
We hope these guides will help families feel they can trust their child with TSC will be 'in safe hands' during their school years and that their child will be understood and supported both physically and emotionally.
TSA is indebted to the many families of TSC children, health professionals, teachers and educators who have been involved in the development of these Australian-based resources. We would also like to acknowledge that publication would not have been possible without the financial support of the Disabled Children's Foundation (DCF), Universal Charitable Fund (UCF) and our TSC Community.