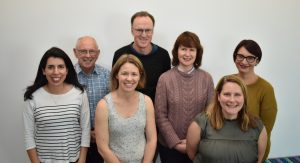 As the only organisation for tuberous sclerosis complex (TSC) in Australia, Tuberous Sclerosis Australia undertakes a wide variety of activities to benefit the individuals living with TSC and their families in Australia. These include education, support services, advocacy and research.
Formed in 1981 as the Australasian Tuberous Sclerosis Society (ATSS), we have always been run by volunteers, most of whom have TSC or someone in their family with TSC. Our members include hundreds of families, in addition to professionals from the medical, caring and education fields. We are a founding member association of Tuberous Sclerosis Complex International (TSCi) and work closely with Tuberous Sclerosis Complex New Zealand.
Our vision is that:
Together, we can create a better life and more hopeful future for every individual living with TSC
To achieve this, we focus our activity on connecting and supporting TSC families throughout Australia and providing up to date information on TSC  treatment and management. When families have access to current information and have a strong support network, they are empowered to strive for the best outcomes for themselves and their TSC affected family member.
Our work includes
Education and Social Events:
Annual conferences around Australia and additional regular information days include experts in TSC presenting to families. Travel subsidies encourage TSC families from interstate to attend. TSA also partners with other organisations such as Epilepsy Action to run a TSC stream within their events. In 2007, 2011 and  2015, TSC medical conferences allow medical professionals to share the latest research into TSC and connect with other TSC specialists. The next major medical conference is planned for 2020.
Each May for TSC Global Awareness Day, our regional contacts host social and educational events around Australia.
Information Service:
Published twice a year, Reach Out provides TSC families with a magazine full of personal stories, the latest research into TSC and other information on the many aspects of life with TSC.
This website contains medically reviewed information pages and a rich set of resources and articles about TSC.
Telephone and Email Support Service:
Our staff and volunteers provide one on one support to families via phone and email. Information is also provided to medical and health care professionals.
We maintain the TSC Professionals Directory, a listing of health professionals who have made a commitment to stay up to date with best practice in the diagnosis, surveillance and management of TSC.
Advocacy:
We advocate on behalf of families with TSC on issues such as access to new treatment, co-ordinated health care and support services. We collaborate with larger organisations including the Consumers Health Forum to achieve these outcomes.
Champion Research in Australia:
Each year TSA works with TSC researchers and medical experts to champion an active research program in Australia that works towards a cure for TSC.
The Lizzie Pinkerton Memorial Award:
This award encourages and rewards exceptional work by a professional to improve the lives of families living with TSC in Australia and New Zealand. This award was established in 2011 and is announced at the annual general meeting each year.
TSA's Achievements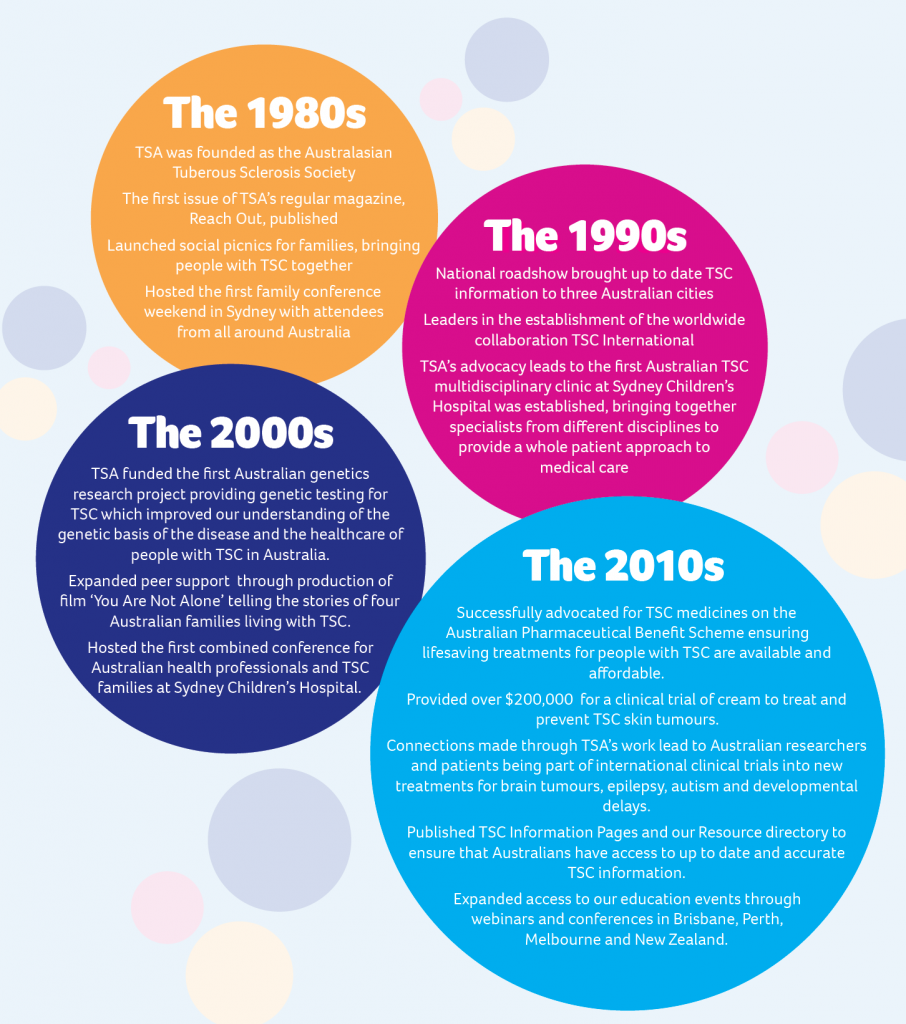 Legal information
Tuberous Sclerosis Australia Inc. is an incorporated association under New South Wales law. You can download and read our constitution here.
We are registered with the Australian Charities and Not-for-profits Commission (ACNC).