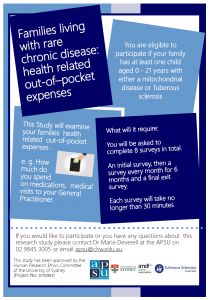 Tuberous Sclerosis Australia, with thanks to the TSC Heroes, are proud to support this research project. Our partner in this project is the Australian Mitochondrial Disease Foundation and the research is being conducted by the Australian Paediatric Surveillance Unit, part of Sydney University.
Families living with rare chronic disease: health related out-of-pocket expenses
What is this study about?
Families affected by rare disease often have inadequate access to government funded health services. This can lead to a significant financial burden. For the first time, our research will aim to describe how much families living with a child who has a rare disease spend on health-related costs not covered by Medicare or Private Health Insurance—the costs that come directly from your own pocket.
Why is this research important?
The results will support advocacy for better access to government funded health services for families like yours.
Who is eligible?
You are eligible to participate if your family has at least one child aged 0 – 21 years with either a mitochondrial disease or tuberous sclerosis.
What is involved?
You will be asked to complete 8 on-line surveys in total over a period of about 8 months:
An initial survey
One survey every month for 6 months
Final exit/evaluation survey
Each survey will take no longer than 30 minutes. All information you provide will be private and confidential.  If you would like to participate or you have any questions about this research study please contact Dr Marie Deverell at the APSU on 02 9845 3005 or email [email protected]
This study has been approved by the Human Research Ethics Committee of the University of Sydney [Project No: 2015/883]