Kim Hoban, Kobi's grandmother, Melbourne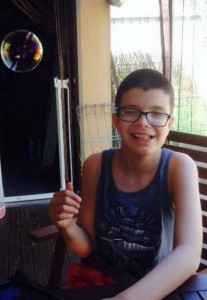 I want to share this success with the TSC community as it may help other kids that are non-verbal and their carers who are looking for a communication device. I am the sole carer of my 13 year old grandson Kobi who has tuberous sclerosis and suffers with severe development delay. Kobi is non verbal apart from a few words and he attends a special school here in Victoria with amazing staff, last year they introduced Kobi to a communication device which was very cumbersome and very hard to navigate and to be honest Kobi showed little interest in it.
In October of last year I saw an advertisement for a communication app that is used on a iPad called Aacorn. After some research I approached Anglicare Victoria's Disability Services for funding. To my delight through their "Making a Difference" program they supplied us with a mini iPad and iTunes gift cards to cover the cost of the app. The results have been amazing. Kobi is a pro at using it, in no time he was navigating through the app with ease. Within a few months was making up whole sentences. You can add new words and photos so you can incorporate familiar things and people in the person's life.
Kobi is my sunshine and I'm just so happy that he can now tell me what's on his mind. I know it must a been so frustrating for him to not be able to communicate. Most of all I love that he can share his feelings. I tell him all the time that I love him and to hear Kobi say it back for the first time was one of those moments I'll cherish forever.