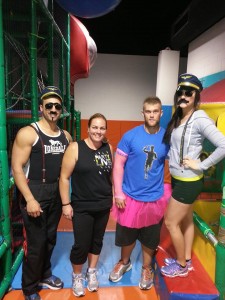 The brain child of Hayley Hill, ATSS volunteer treasurer, Genesis Gym in Blacktown held a fundraising event on 23rd May. The event included personal training sessions offered for a donation, a fantastic raffle and sponsorship of some of the trainers to do their first ever Zumba class.
The day was made possible by:
Genesis Gym, for hosting the event
Personal Trainers Kevin Bartley, Rebecca Napier and Navid Alaee, who gave up their day to train people in exchange for a donation
Zumba Instructor, Elena Macnamara, from Macs Fitness, who hosted a Zumba class for the personal trainers and others who made a donation
The many companies who donated raffle prizes: Genesis Gym Blacktown, Star Shots at Caringbah, Caltex Energy NSW, Playtime Blacktown, Napoleon Blacktown, Imax Theatre, Outback Steakhouse Parklea, Hoyts Blacktown, AMF Bowling Blacktown, Sharon Sparks, Glow Meat – Arndell Park, and Gloria Jeans Coffee Blacktown
Thank you to all of these people and companies who got behind this local event. And a big thank you to Hayley Hill for your passion and commitment to ATSS. Both Hayley and her son Brad have Tuberous Sclerosis.
The event raised $2,668 – a wonderful result!