Brisbane father Todd MacDonald has co-developed this Queensland Theatre Company work that explores his experience of his daughter being diagnosed with Tuberous Sclerosis. The show is on from 18th – 27th September as a part of the Brisbane Festival.
$5 from all tickets purchased
through this link
will go to The Mater Children's Hospital's Tuberous Sclerosis Clinic.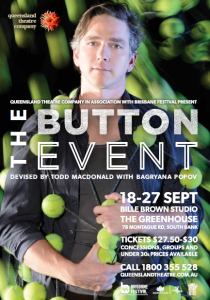 From Queensland Theatre Company:
The Button Event is the true story of one man searching for connections in chaos. Juggling the daily grind of home, work and family comes to an abrupt halt when one of his twin daughters is diagnosed with Tuberous Sclerosis. In the time it takes to push a button the future of his family hangs in the balance between beauty and fear, faith and science – and what it takes to cope with the messy and absurd things life hurtles at you. With him, we catapult into a world of sleep deprivation, seizures, medication, trampolines and home renovations. This one-man tour-de-force fuses physical performance, wry humour, raw emotion and a few hundred tennis balls. Devised by the multi Greenroom Award-winning artist Todd MacDonald and acclaimed director Bagryana Popov, The Button Event is a deeply personal and fearlessly honest work which ricochets between medical minefields, acts of faith and family counselling.