Monitoring, Tests and Diagnosis
Diagnosis
Seizures are diagnosed based on clinical history. Repetition of similar neurological symptoms lasting for seconds to minutes are a clue for diagnosis.
Home video is valuable for doctors to confirm a diagnosis of clinical seizures and behavioural disturbance, and to decide what further tests needed to be done.
EEG
EEG (Electroencephalogram) is helpful for diagnosing electrographic seizures and figuring out what part of the brain the seizures are coming from, as well as performing pre-surgery screening in patients whose seizures are not controlled with medicine. EEG is also useful for diagnosing non-convulsive status epilepticus. It is a painless test that records the brain's electrical activity, sometimes called brain waves.
There are several clinical trials investigating whether babies with TSC should have an EEG before having any clinical seizures to identify epileptiform activity and electrographic seizures. Early EEG may allow for treatment to prevent seizures or infantile spasms. It may also make them easier to treat. This in turn may eventually reduce risk of neurodevelopmental delay and autism spectrum disorder. However, more studies need to be done in this field.
For more information on EEG and the different types of EEGs, visit this page from Melbourne's Royal Children's Hospital.
Surveillance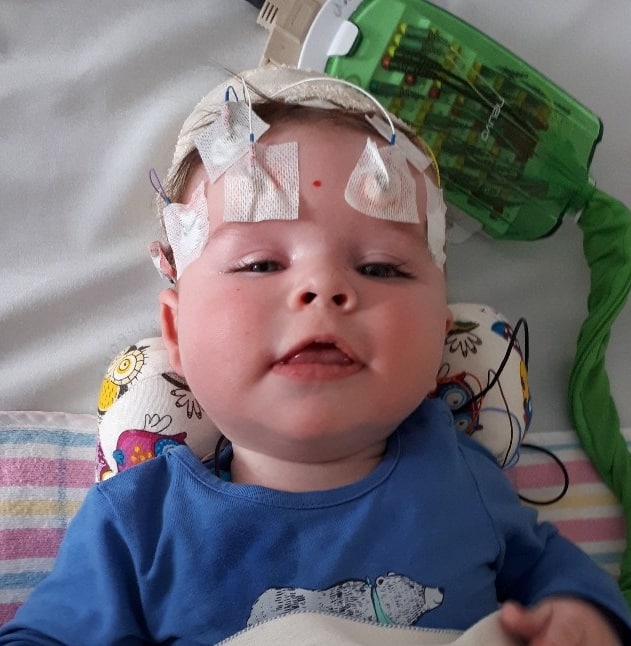 • When an individual is first diagnosed with TSC, obtain a baseline routine EEG during wakefulness and sleep; if EEG is abnormal, and particularly if features of TAND are present, follow this with 8-24-hour video EEG to look for subtle seizure activity.
• In infants with TSC  who have not had any seizures, obtain routine EEG every 6 weeks up to age 12 months and every 3 months up to age 24 months, as abnormal EEG frequently precedes the onset of clinical seizures.
• When a child under 3 years old is newly diagnosed with TSC, teach parents and other caregivers how to recognize infantile spasms and what to do if they suspect the child is having infantile spasms.  A description and video are available at 
tscalliance.org/infantilespasms
.
• The duration and frequency of EEG monitoring should be determined by clinical need.
• Video EEG should be obtained if a diagnosis of seizure is unclear or challenging to differentiate from behavioural or neurological changes.
Monitoring
Some individuals who have regular seizures (or their parents/carers) find it helpful to track seizures on a computer or mobile phone using an app called Seizure Tracker, developed by a TSC family in the USA, is one tool that can be used for this.