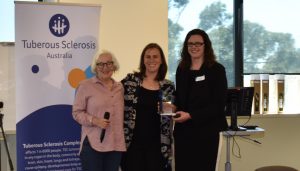 The Elizabeth Pinkerton Memorial award is given annually by Tuberous Sclerosis Australia to a health professional to recognise their efforts to improve the lives of TSC affected people and their families in Australia.
Elizabeth (Lizzie) Pinkerton (1984 – 2010) had tuberous sclerosis complex and polycystic kidney disease. Lizzie lived a life full of friends, dancing and laughter. She provided inspiration for her family's involvement in TSA for over 25 years, particularly her mother Sue as President of TSA.
Read about past winners of the award
Nominations are now open for the 2019 recipient. We particularly encourage nominations from families affected by TSC.
Note that past award winners are not eligible for this year's award as we know there are many other deserving recipients. If you do send through a nomination for a previous winner, we will happily share your feedback with them, but it will not be considered by the committee. Past winners are: Dr David Mowat, Dr John Lawson, Dr Kate Riney, Dr Sean Kennedy, Dr Anne Halbert, Dr Simon Harvey, Dr Helen Whitford, Dr Orli Wargon.
Nominations must be submitted by midnight on Saturday 20 July 2019.
Nomination Form - Elizabeth Pinkerton Memorial Award 2022
---