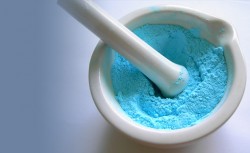 Topical Rapamycin is an experimental treatment for facial angiofibromas, which affect the majority of people with Tuberous Sclerosis. A formal clinical trial, funded by generous donors to Tuberous Sclerosis Australia, has completed at Sydney Children's Hospital which aims to provide the information necessary for approval of this new medicine.
Despite the lack of formal approval, many Australians with TSC are using mTOR inhibitors to treat facial angiofibromas. This is called "off-label" use. Many also tell us that the cream is useful for other signs of TSC on the skin and nails. The early results of the clinical trial show that the medicine is not absorbed into the blood stream so the risks of this new treatment are generally considered to be minimal.
This article is for general information only. It does not constitute medical advice and patients should consult their doctors for more information about the suitability of this medicine for their individual case.
There are two steps in obtaining the cream:
Consult a dermatologist, who may provide you with a script for topical rapamycin
Get the script filled at a pharmacy that is able to make the cream
Read more about these steps below.
Government subsidies
Tuberous Sclerosis Australia is working towards having this medicine available and affordable to all people with TSC who would benefit from it. This is not a simple or quick process. State government reimbursement is available for:
patients at Princess Margaret Hospital in Perth
patients at The Royal Children's Hospital in Melbourne
patients who have their treatment initiated at the TSC Clinic at Lady Cilento Children's Hospital in Brisbane
All of these require the cream to be filled at the relevant pharmacy associated with the hospital.
Some private health insurance extras policies cover private medications. Please contact your private health insurance if you have extras cover to ask if this medication is covered. Please let us know if you are successful so we can share this information with others.
In New Zealand it is possible to get funding through Pharmac under a special authority. These are issued for a limited period of time, usually 12 months, and can then be renewed. At least eight patients in New Zealand have had these special authorities approved so you will not be the first. It is quite a lengthy form for doctors to fill in. Without a special authority the cream costs around $400 for a 6 month supply so it is worth applying for the special authority.
Step 1: Consult a dermatologist
A dermatologist is a doctor that specialises in the skin. This doctor will be able to discuss your individual case and explain how the treatment should be used.
If you do not already have a dermatologist, or you would like to see a different doctor:
Like many specialists, you may be able to see a dermatologist as a public patient or privately.
You may have a much shorter waiting time or find it much easier to see a dermatologist as a private patient.
You should ask your GP or your child's paediatrician or other primary care doctor for a referral.
A list of practising dermatologists is available through the College of Dermatologists.
You may like to print the following journal article before your appointment and share it with your doctor:
Perth report on use of topical rapamycin for angiofibromas
If you would like help finding a dermatologist that has previously prescribed topical rapamycin for a TSC patient, you can contact TSA. If you are prescribed topical rapamycin by a dermatologist, TSA would like to be able to provide this information to other families. Please take the time to contact us to tell us about your doctor.
Some families have also been prescribed the cream by their General Practitioner (GP), their child's paediatrician or paediatric neurologist.
If you are in New Zealand, ask your doctor to apply for a Special Authority from Pharmac to fund the cream.
Step 2: Get the script filled at a pharmacy
Because topical rapamycin is not yet an approved treatment, it is not stocked in every chemist shop like other medicines are. Only some pharmacies, called 'compounding chemists' have the skills and equipment to make medicines. Only a small number of these compounding chemists are currently making topical rapamycin.
This situation is made more complicated because there are a few different recipes for the cream. We have not tested the creams from any pharmacy in Australia and you should talk to your doctor and the pharmacist to help decide which formulation to use. There are a small number of children's hospitals in Australia making the cream for their own patients.
These pharmacies are able to post the medicine to you within Australia.
Update February 2018: All the pharmacies listed below are now offering the same prices for their creams.
International supply
The Australian pharmacies listed above are willing to express post to families within Australia and internationally on request. There are laws in Australia governing supply of rapamycin that restrict supply to only be provided to fill a prescription written by a doctor registered in Australia.