Dr Denise Chan spoke with TSA's General Manager, Clare Stuart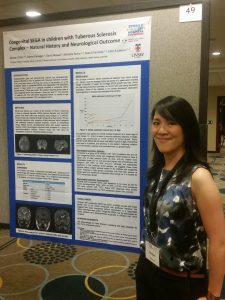 First of all, congratulations on your recent travel award to the International TSC Research Conference. What was your TSC research project about?
Thanks! I am a paediatric neurology fellow at Sydney Children's Hospital and I am doing a research-based Masters about neuroimaging markers in paediatric tuberous sclerosis complex (TSC). The main things we see on imaging of the brain of patients with TSC are subependymal nodules (SEN), subependymal giant cell astrocytomas (SEGA) and cortical tubers. I am interested in whether we can detect patterns in MRIs of children with TSC, and whether these patterns can predict neurological or developmental outcomes in their future.
What did you find out?
At the recent International TSC Research Conference in June, I presented data regarding congenital SEGA. This was a collaborative project I undertook with Dr John Lawson, Danny Flanagan, Dr Sean Kennedy and Dr Michelle Farrar.
SEGA is a type of brain tumour unique to TSC which is at least 1cm wide in any direction, usually within the ventricles. A SEGA is considered congenital if it is diagnosed before the child is 12 months of age. It is rare for SEGA to be diagnosed before one year of age, with only 30 cases or so reported worldwide. The existing studies suggest that congenital SEGA has an aggressive growth compared to non-congenital SEGA, with a growth rate of approximately 1cm every four months. More than half of the patients undergoing SEGA surgery experience complications.
We looked at the growth of congenital SEGA in children with TSC at Sydney Children's Hospital Randwick. We found that the congenital SEGAs in our 11 patients did not grow as rapidly as the existing research might suggest. Over an average follow-up period of 3.3 years, the average SEGA growth rate was 1.4mm per year. We measured this using maximum diameter. This is less than a tenth of the rate suggested by previous research. None of our patients needed surgical intervention. All the identified patients had a TSC2 gene mutation, with one having a TSC2+PKD1 mutation.
Compared to 32 children with TSC2 mutations without congenital SEGA, those with congenital SEGA tended to have a higher rate of daily seizures (60% versus 34%), trialled more antiepileptic drugs (5.5 versus 4.2) and have higher rate of treatment with ketogenic diet (40% versus 19%). Although these differences were not statistically significant, perhaps due to the relatively small numbers studied, we suggest these three markers reflect a higher seizure burden in children with congenital SEGA.
We found that patients with congenital SEGA also appeared to be more at risk of severe developmental delay (40% versus 25%) when compared with other children with TSC2.
Rates of ASD diagnosis were similar between the groups.
How will this research make a difference to the medical care we provide for people with TSC?
From our study, we concluded that children with SEGA diagnosed before 12 months of age can experience a lower growth rate of their SEGA compared to published research. We suggest that close monitoring without intervention is a reasonable option in these early years, especially as research suggests that there are high rates of surgical complications in this group. From our data, it also seems that children with TSC2 mutations who have congenital SEGA may also have worse epilepsy and developmental prognoses. This might help us be more proactive with anti-epileptic medications and put additional supports in place for this higher risk group.
What do you think is the most important thing for people with TSC to know about the research taking place around the world?
It was inspiring to attend the most recent TSC research conference and a privilege to be supported by the travel grant which was jointly awarded by the Tuberous Sclerosis Alliance and the LAM Foundation.
One of the important things I took away from the conference is the number of clinician researchers and lab researchers around the world who are working to understand TSC and find new drug targets.
There is so much we don't know about TSC, and we need ongoing support from patients and their families to continue doing more research. For me, meeting families affected by TSC from around the world was inspirational and reminds me to keep putting them at the centre of clinical care and research.
What are your future research and career plans now? Have we 'hooked' you into the TSC community?
Next year I'll finish my training as a paediatric neurologist and continue my Masters research. Given the number of unresolved research questions in TSC and the potential of improving the lives of those affected by TSC, I plan to pursue a career as a clinician-researcher neurologist. Five years ago, when I first started paediatrics training, I met a very special girl who had TSC – I think I've been 'hooked' for a number of years already! The TSC research group is very friendly and no doubt I'll be spending more time here.