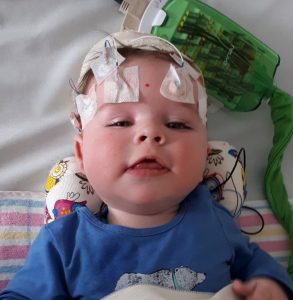 We are pleased to share news that everolimus (Afinitor) for epilepsy has been added to Australia's pharmaceutical benefits scheme (PBS). Today the Federal Health Minister, the Honourable Greg Hunt announced that this medicine to treat seizures for people with TSC will be funded through the PBS.
Epilepsy is one of the most common symptoms of TSC and approximately 90% of people with TSC will have seizures. For many of these, seizures start when they are a baby and are very difficult to manage, with up to half not able to get adequate seizure control with available anti-epilepsy medications.
"We have to deal with TSC every day, we can never forget it. Every day we see our family member endure seizures, disturbed sleep, medications, behaviour disturbances, learning difficulties, and speech and language delays. Every day is a challenge." Parent of a child with TSC and seizures
This new medicine for seizures for people with TSC has shown in clinical trials to be useful to many people with TSC and difficult to control epilepsy. A small number obtained freedom from their seizures and many others had significantly less seizures, allowing them to participate in school, work and community programs.
Everolimus (Afinitor) has been approved by the Therapeutic Goods Administration (TGA) as a safe and effective treatment for several signs and symptoms of TSC: subepyndymal giant cell astrocytomas (SEGAs), kidney angiomyolipomas (AMLs) and seizures. Now Australians with TSC will have affordable access to these life saving medications.
Australia continues to be a world leader in affordable access to everolimus and other mTOR inhibitor medicines. We stand with our sister organisation, Tuberous Sclerosis Association in the United Kingdom, as they campaign against the recent decision of NHS England to not fund this medicine.
Funding is one of the final steps in a long process of making this medicine available. Thank you to all the researchers, clinical trial participants and funders who contributed. Our particular thanks to Dr John Lawson and the Australian families who participated in the Exist-3 trial at Sydney Children's Hospital.
Find out more:
If you could like more information on whether everolimus may be a suitable treatment option for you or someone in your family, please discuss this with your doctor(s). You can also call the Tuberous Sclerosis Information Service on 1300 733 435.
Media enquiries: Clare Stuart 0410 685 181 [email protected]
Media coverage of the announcement