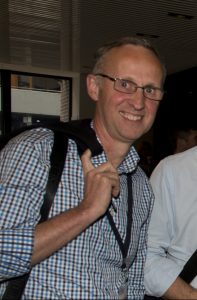 Dr Simon Harvey, paediatric neurologist at Royal Children's Hospital in Melbourne, is the recipient of the 2016 Elizabeth Pinkerton Memorial Award. This award is given annually by Tuberous Sclerosis Australia to a health professional in recognition of their efforts to improve the lives of families living with TSC in Australia. Dr Harvey is the sixth recipient of this award and the first from Victoria.
One father of a child with TSC nominated Dr Harvey for this award, saying:
"Dr Harvey has spent many years treating patients with TSC. More recently he has been researching and documenting the
effectiveness of tuberectomies
in providing seizure control and reduction in seizures as a result of the treatment.
He has been sharing his knowledge of this condition and avenues of treatment across the globe to support and educate other practitioners. This year Dr Harvey is working with a team to understand the Developmental Outcomes of children with Tuberous Sclerosis. The DOTS study is underway.
To our family, Dr Harvey has been a huge support and advocate who has continued to push to provide our son with the best quality of life possible. For this we are forever grateful."
Dr Harvey is a loved paediatric neurologist to many children with TSC and has been given the nickname "Uncle". He has also worked within the neurology team at Royal Children's Hospital to evaluate other patients for possible epilepsy surgery, including many patients from interstate and overseas. Dr Harvey has also supported Tuberous Sclerosis Australia by assisting with family educational events in Melbourne and attending our medical education meetings. He is a member of the TSC Professionals Network.
We look forward to presenting Simon with his award later this year in Melbourne.
You can read more about the Elizabeth Pinkerton Memorial Award and the previous recipients here.

Nominations open
Do you know a health professional who has gone above and beyond to improve your or your child's life? Take five minutes to nominate them. This year, we'd particularly like to know about health professionals who treat adults with TSC.