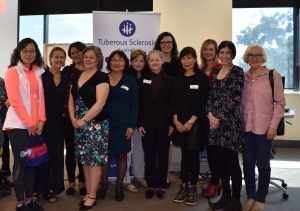 Dr Helen Whitford, a staff specialist in respiratory medicine at the Alfred Hospital,is the recipient of the 2017 Elizabeth Pinkerton Memorial Award. This award is given annually by Tuberous Sclerosis Australia to a health professional in recognition of their efforts to improve the lives of families living with TSC in Australia. Dr Whitford is the seventh recipient of this award and the second from Victoria.
Dr Whitford runs a clinic in Melbourne for the lung disease associated with TSC, lymphangioleiomyomatosis (LAM). A woman with LAM nominated Dr Whitford for this award, saying:
"Helen's clear, genuine and professional demure at all times offered me complete confidence in her ability as a leading respiratory specialist on the transplant team. My case was a rare case of a rare condition not seen before in Australia. If it wasn't for Helen's continual drive to source answers for my rapid debilitating situation I would not be here today. Helen offered person centered care and worked with myself and the team to ensure the best possible outcome. I am forever grateful."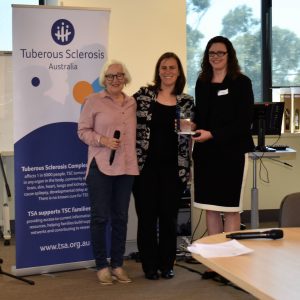 Dr Whitford was presented with her award at the 2017 Melbourne TSC Information Day.
You can read more about the Elizabeth Pinkerton Memorial Award and the previous recipients here.