This award is given annually by TSA to a health professional to recognise their efforts to improve the lives of TSC affected families and individuals in Australia. Nominations come from the TSC Community.
About Elizabeth Pinkerton. Elizabeth (Lizzie) Pinkerton (1984 – 2010) had Tuberous Sclerosis Complex and Polycystic Kidney disease. Lizzie lived a life full of friends, dancing and laughter. She provided inspiration for her family's long-standing involvement in TSA, particularly her mother Sue (former TSA President) and sister Clare (former TSA General Manager).
2022 Award Winner – Kathryn Santamaria
Kathryn Santamaria is an Epilepsy Nurse Consultant at Royal Children's Hospital in Melbourne and the winner of the 2022 Elizabeth Pinkerton Memorial Award.
A member of the TSC Community in Australia nominated Kathryn saying:
"Kathryn has been a big part of our child's TSC journey from when he was just 4 months old (he is now about to turn 10). Kathryn has the most beautiful, calming, gentle and fun bedside manner. She is super organised and is always available to assist our family when required. Nothing is ever too much trouble.
Kathryn assists us with not only co-ordinating brain scans, brain surgeries etc but also assists at times with co-ordinating other TSC specialists. She's so reliable and makes us feel confident that if she is handling something for us, it'll get done.
Kathryn works closely with Dr Simon Harvey to ensure not just TSC patients., but all epilepsy patients are well taken care of. She is our constant. Our son (and our whole family), adores her. Our son often won't allow any procedures to be done unless she is there with him. Kathryn has absolutely made a huge difference in our TSC journey and we would be lost without her."
Kathryn says it is her privilege to support families and patients living with TSC, and that she is truly honoured to be the recipient of such a prestigious award, "Every day presents new challenges. But it is the relationship that we have with our families and our patients that makes it all worthwhile. This relationship is based on empathy, sorrow, happiness, trust and respect. There are smiles, there are tears, and there is friendship. The strength that our families portray (let alone find), is inspirational. I have always thought of TSC as a journey. This journey is not always smooth. It is filled with speed bumps, roundabouts and many detours, some steps forwards and some steps back. But this journey is a partnership between patients, families and clinicians. I am honoured to be a part of this journey and help to support these amazing people. They are my inspiration. They are why I love my job."
2021 Award Winner – Dr Freyja Page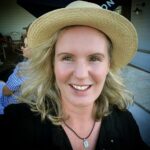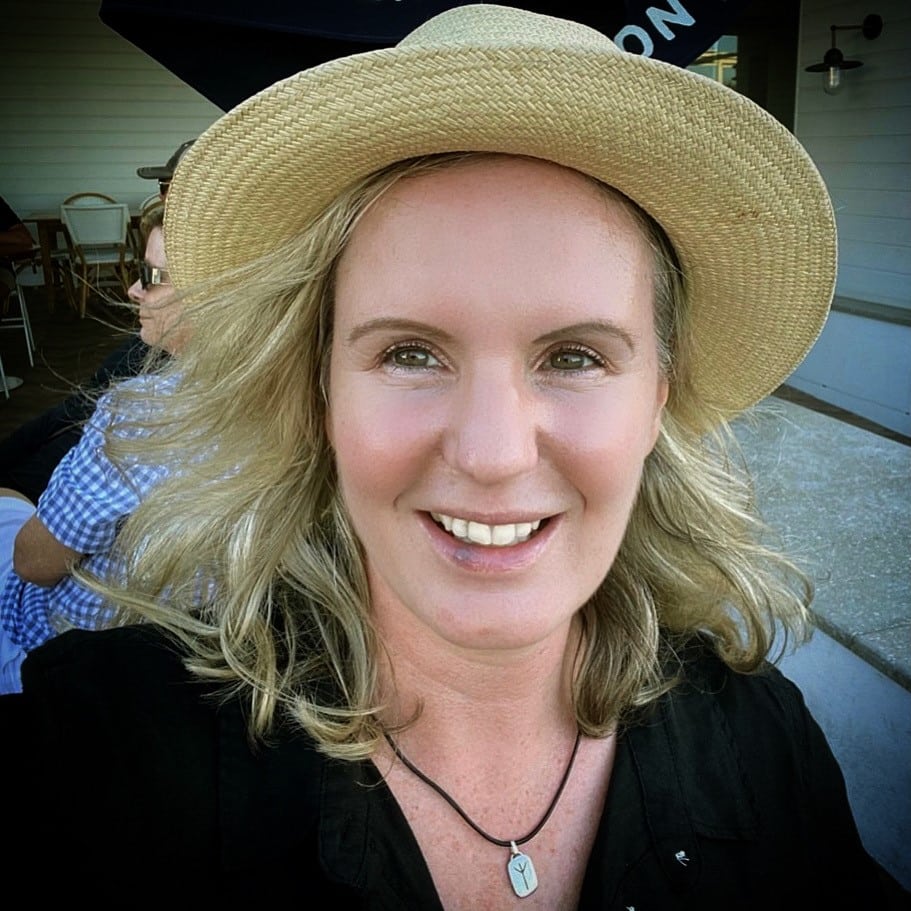 Dr Freyja Page, a General Practitioner (GP) in Townsville, has been confirmed as the recipient of the 2021 Elizabeth Pinkerton Memorial Award.This is the first time that the award has been won by a General Practitioner.
A member of the TSC Community in Australia nominated Dr Page saying: 'Freyja has been our primary care GP for 4 years and is recognised by Queensland Health as Townsville (and North Queensland's) only expert in TSC. Freyja took over my daughter's complex medical situation before she was diagnosed with TSC. It was through her dedication and expertise that we were able to identify and diagnose TSC. Freyja took time out of her own life to learn about TSC with the express desire to be able to treat and manage our daughter in our home town.
Freyja now leads a team of health care professionals, specialists and allied health carers to ensure our daughter gets the care she needs and doesn't have to travel to Brisbane some 2,000 kilometres away. She has trained health professionals and provided advice and advocated for our daughter over the last 4 years through a difficult diagnosis process and created a management plan based on world's best practice. We live in regional Queensland and don't have the same access to specialist care as people in capital cities. Our daughter's complex health means air travel on a regular basis to Brisbane is not feasible and, as a family, we struggle with the costs associated with her care. Freyja has always found a solution and helped us access what we need locally and most certainly during the pandemic when leaving town wasn't an option.
Regional and rural medicine needs more doctors like Freyja and I feel that she is the perfect example of a doctor going beyond her job description to care for her patients.'
2020 Award Winner – Dr Nicholas (Nick) Smith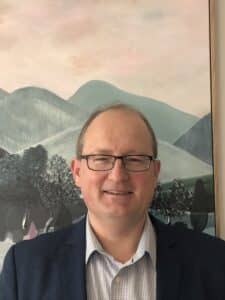 Dr Nicholas (Nick) Smith, Head of Neurology at the Women's and Children's Hospital in Adelaide, South Australia had been confirmed as the recipient of the 2020 Elizabeth Pinkerton Memorial Award.
Members of the Australian TSC Community nominated Dr Smith for the award.  He was recognised in particular for the information, advice, alternative options and assistance he has provided to TSC families, giving them confidence as parents to tackle the challenges of the disease.
Dr Smith said he was most honoured to have been nominated by members of the TSC community and considered it a great privilege, in conjunction with dedicated clinical colleagues, to work with and help support the children and families living with TSC, who they meet through their service. He said the families are always a source of inspiration.   Dr Smith thanked the Committee and those who had nominated him.
2019 Award Winner – Dr Fiona McKenzie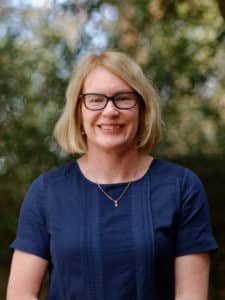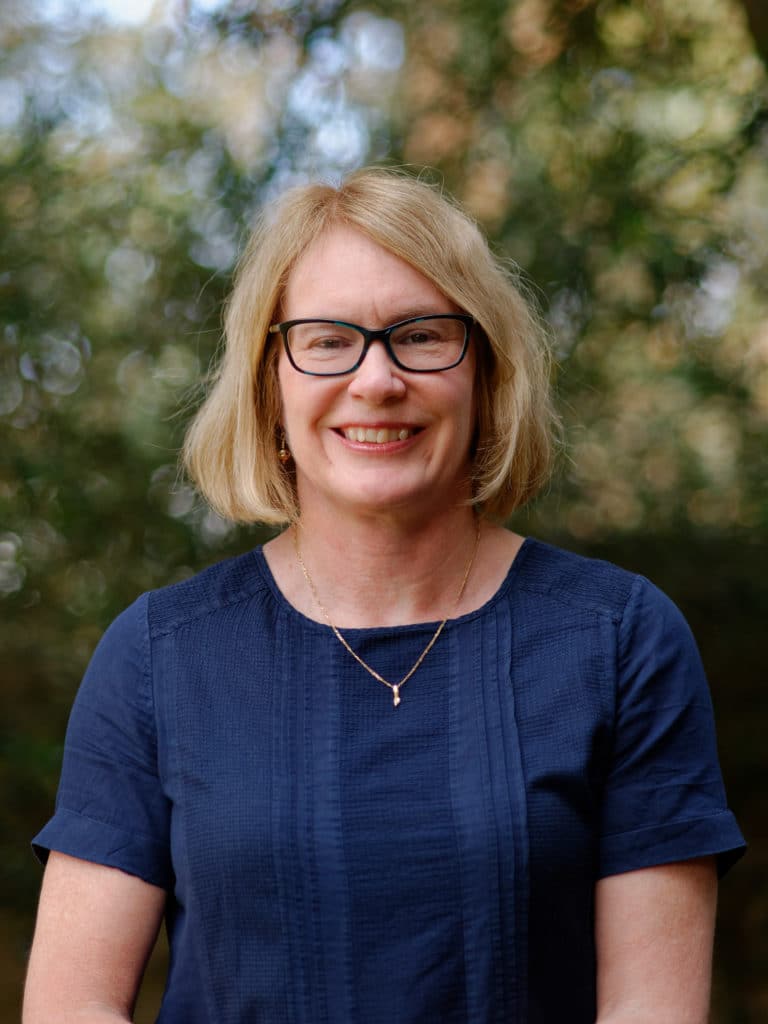 Dr Fiona McKenzie, Geneticist at the King Edward Memorial Hospital for Women in Subiaco, Western Australia was nominated for her long-term perseverance in assisting one TSC adult to search for the  cause of their mosaic TSC and for her considered counselling to families. As one TSC affected family commented, "Dr McKenzie counselled us when we were planning to conceive and have our first child. We wouldn't have had the confidence to go forward without her advice." 
Dr McKenzie said: "I feel very privileged to have been nominated for this award, although I wouldn't say I was any more deserving than many other colleagues around Australia! Thanks to TSA for choosing me. "
2018 Award Winner – Dr Orli Wargon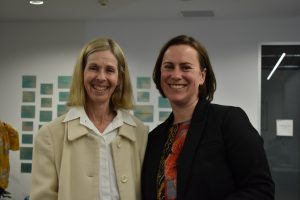 Dr Orli Wargon, a paediatric dermatologist at Sydney Children's Hospital and part of the Sydney Children's Hospital TSC Clinic team. Dr Wargon has been particularly focussed on TSC as a part of the Treatment trial investigating the effectiveness of topical rapamycin for the facial angiofibromas.
Several members of the Australian TSC Community nominated Dr Wargon for this award, including Kate Norris, mum to Liam who has TSC:
"We've been in Orli Wargon's good care since our son Liam was a baby nearly ten years ago. Participating in Orli's fantastically well-run rapamycin trial was a privilege. Liam has continued to use his 'magic cream' since then and his face is looking so clear. Thank you Dr Wargon, for being at the forefront of research that's benefiting people with TSC in such a direct way."
Debbie Crosby, president of TSA and Mum to Alana who has TSC, adds:
"We are very lucky to have Orli as our dermatologist for our daughter Alana. Orli is so knowledgeable, caring and always explains things so well.  Her leading role in the rapamycin cream trial has helped so many families and has such a positive impact in the lives of people living with TSC in Australia."
2017 Award Winner – Dr Helen Whitford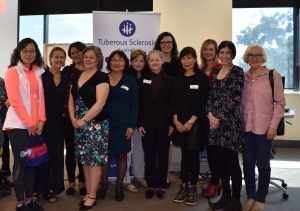 Dr Helen Whitford is a staff specialist in respiratory medicine at the Alfred Hospital with specific interests in Lung Transplantation, Pulmonary Arterial Hypertension and orphan lung diseases. She has taken a particular interest in the lung condition associated with TSC, lymphangioleiomyomatosis (LAM).
One woman with LAM nominated Dr Whitford for this award, saying:
"Helen's clear, genuine and professional demure at all times offered me complete confidence in her ability as a leading respiratory specialist on the transplant team. My case was a rare case of a rare condition not seen before in Australia. If it wasn't for Helen's continual drive to source answers for my rapid debilitating situation I would not be here today. Helen offered person centered care and worked with myself and the team to ensure the best possible outcome. I am forever grateful."
Thank you to the women with LAM who came to the 2017 Melbourne TSC Information Day to acknowledge Dr Whitford, and to the assistance from LAM Australia Research Alliance for collaborating with us to present this award to Dr Whitford.
"Dr Helen Whitford has right from first day I had my first clinic visit at the Alfred Hospital been the most knowledgeable, medical doctor who started the Lam Clinic at the Alfred. Dr Whitford has been patient and very understanding of the ongoing medical issues facing all TSA and Lam patients. The clinic has grown and through her guidance there are other medical students, nurses, interns who rotate to work as a consultant for their experience. Dr Whitford is just amazing, always greets her patients warmly and in a professional manner.  Dr Whitford is a caring and dedicated doctor to us all."
2016 Award Winner – Dr Simon Harvey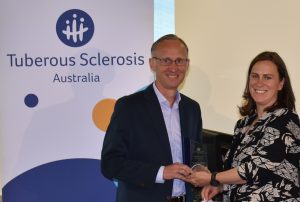 Dr Simon Harvey is a paediatric neurologist at Royal Children's Hospital in Melbourne. Simon was presented with his award the 2017 Melbourne TSC Information Day.
One father of a child with TSC nominated Dr Harvey for this award, saying:
"Dr Harvey has spent many years treating patients with TSC. More recently he has been researching and documenting the effectiveness of tuberectomies in providing seizure control and reduction in seizures as a result of the treatment.
He has been sharing his knowledge of this condition and avenues of treatment across the globe to support and educate other practitioners. This year Dr Harvey is working with a team to understand the Developmental Outcomes of children with Tuberous Sclerosis. The DOTS study is underway.
To our family, Dr Harvey has been a huge support and advocate who has continued to push to provide our son with the best quality of life possible. For this we are forever grateful."
Dr Harvey is a loved paediatric neurologist to many children with TSC and has been given the nickname "Uncle". He has also worked within the neurology team at Royal Children's Hospital to evaluate other patients for possible epilepsy surgery, including many patients from interstate and overseas. Dr Harvey has also supported Tuberous Sclerosis Australia by assisting with family educational events in Melbourne and attending our medical education meetings. He is a member of the TSC Professionals Network.
2015 Award Winner – Dr Anne Halbert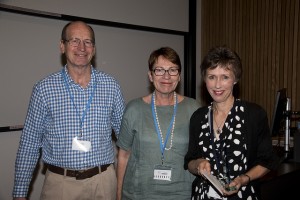 Dr Anne Halbert was presented with the 2015 award at the 2015 Australian Tuberous Sclerosis Conference. This award recognises Anne's decades of work with TSC patients and their families providing clinical care and also contributing significantly to TSC research.
Anne Halbert graduated in medicine with Honours from the University of Western Australia in 1987. After training in dermatology in Perth, she was awarded the Florence Bequest to undertake a fellowship in Paediatric Dermatology in Denver, Colorado. On returning to Perth in 1995 she commenced private practice and sessional work at Princess Margaret Hospital for Children, where she has been Head of Department for 16 years. She has special interest in difficult atopic dermatitis, genetic skin disorders and vascular malformations. After publishing on the use of topical mTOR inhibitors in children with tuberous sclerosis, she is now studying the effect of oral mTOR inhibitors in complex vascular malformations. She maintains close connections with the North American Society for Pediatric Dermatology and is involved in dermatology training through the Australasian College of Dermatologists.
"Dr Halbert has worked for many years now with children who have TSC and their families. She has a lovely caring compassionate manner and is always so supportive and understanding in her interactions with the children and their parents. She should be congratulated for initiating a trial for the use of topical rapamycin for the treatment of facial angiofibromas in children with TSC. It was instrumental in allowing all children with TSC in Western Australia to have access to the cream and therefore to avoid the need for regular laser treatment usually under general anaesthetic. The difference this made to our life was very significant and cannot be understated. I am sure all other TSC families would support this. I feel that Dr Halbert is very deserving of this award given her commitment to improving the lives of children with TSC and her support of their families."
2014 Award Winner – Dr Sean Kennedy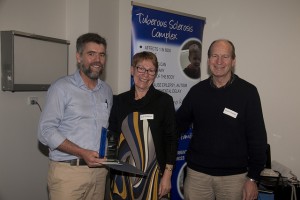 Dr Sean Kennedy is a paediatric nephrologist at Sydney Children's Hospital, Randwick, and Senior Lecturer at the University of New South Wales, where he is an active researcher and teacher. His PhD investigated the role of inflammation in acute kidney disease. Dr Kennedy is experienced in all facets of renal medicine including the management and investigation of urinary tract infection, hydronephrosis, kidney impairment, electrolyte disturbances, haematuria and proteinuria. He has a special interest in the management of children with high blood pressure. He sees patients with kidney disease across the whole spectrum of paediatrics, from babies to adolescents.
Dr Kennedy is a member of the TSC clinic at Sydney Children's Hospital, where he has worked with numerous families with Tuberous Sclerosis Complex. He has provided support and is an advisor to Tuberous Sclerosis Australia.
Dr Kennedy's research interests include acute kidney injury in children; optimising outcomes in adolescents and young adults with kidney disease; renal manifestations of Tuberous Sclerosis Complex; and improving clinical management of congenital anomalies of the kidney and urinary tract.
2013 Award Winner – Dr Kate Riney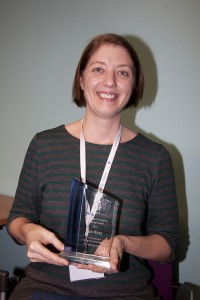 Dr Kate Riney is a Consultant Paediatric Neurologist and Epileptologist, Chair of the Queensland Paediatric Epilepsy Network, and Senior Lecturer at the University of Queensland Mater Children's Hospital.
Dr Riney undertook undergraduate medical studies at University College, Dublin, before qualifying as a doctor. She completed her pre-registration house officer post in the Ulster Hospital, Dun Donald, Belfast, before moving to Australia for her first Senior House Officer post. This post involved working for four years in Queensland, with the last two years spent at the Royal Children's Hospital in Brisbane. She joined the Royal Australian College of Physicians as a Paediatric Trainee and completed the FRACP examination in July 2000. At this time she returned to Dublin where she worked at the Children's Hospital, Temple Street, Dublin, in the specialties of Accident and Emergency and Paediatric Neurology.
Dr Riney moved to the United Kingdom in 2001, initially working in the Bradford Royal Infirmary, before moving to Great Ormond Street Hospital for Sick Children, London, where she worked in the Paediatric Neurology Department. She returned to Australia and became a Fellow the Royal Australian College of Physicians in March 2003, but continued post-FRACP training in Paediatric Neurology. Her area of particular interest is epilepsy, and in September 2003 she joined the Institute of Child Health as a Clinical Research Fellow and began a three year PhD research project entitled 'Improving the detection of focal brain abnormality in children with intractable extratemporal epilepsy'.
Dr Riney started the Tuberous Sclerosis Complex clinic at Brisbane's Mater Children's Hospital in recognition of the co-ordination of care required for children significantly affected by TSC. The aim of this clinic is to assist with the diagnosis of Tuberous Sclerosis Complex and to provide and advisory for children affected by complex issues related to TSC. Dr Riney is highly regarded by her patients, some of whom travel long distances to see her. Besides her busy professional life, Dr Riney is also the mother of two boys.
2012 Award Winner – Dr John Lawson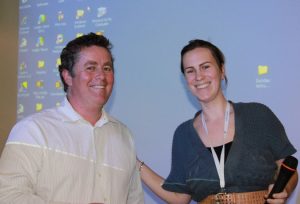 Dr John Lawson completed his medical degree at the University of Newcastle and Diploma of Paediatrics and PhD at the University of NSW. He completed his Neurology Fellowship training at the Sydney Children's Hospital Randwick and the Miami Children's Hospital, a Centre of Excellence for epilepsy surgery in the USA.
Dr Lawson has an extensive portfolio of research into paediatric epilepsy and neurology. His interests include enhancing the diagnosis and management of children with epilepsy and tuberous sclerosis. Publications have include those on new imaging techniques in childhood epilepsy, the effect of epilepsy on quality of life and cognition, the efficacy of the ketogenic diet for intractable epilepsy and a Novartis sponsored multi-centred international trial investigating the use of everolimus for treatment of SEGA in TSC.
Dr Lawson's commitment to patients with tuberous sclerosis is evident in his role as co-director of the TSC clinic at Sydney Children's Hospital and as Medical Advisor to Tuberous Sclerosis Australia.
2011 Award Winner – Dr David Mowat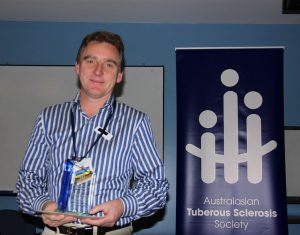 Dr David Mowat is a senior staff specialist in Clinical Genetics at Sydney Children's Hospital, the Royal Hospital for Women and the Prince of Wales Hospital. He has qualifications in General Practice, Obstetrics and Gynaecology, Paediatrics and Clinical Genetics. He has contributed to numerous journal articles and book chapters including an article in the Journal of Paediatric Child Health published in March 2011 "An Australian Tuberous Sclerosis Cohort: Are surveillance guidelines being met?"
Dr Mowat and Dr John Lawson are co-directors of the Tuberous Sclerosis Multi-disciplinary Clinic at the Sydney Children's Hospital that commenced in 2006.