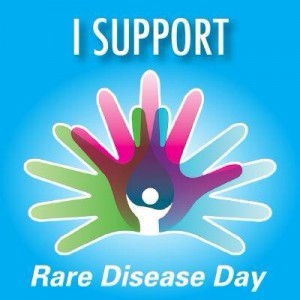 This post is from Clare Stuart, General Manager at TSA. It does not constitute the official pronouncement of Tuberous Sclerosis Australia. We encourage your feedback in the comment to this post or by email.
International rare disease day is often used as an occasion to highlight the inequity in our health system. Thousands of rare diseases have no active research programme, few health professionals taking an interest and few effective treatment options. International rare disease day is a day to highlight the stories of the people living with rare diseases and challenge our society to do better by them.
I want to pause on this rare disease day and be thankful too. Tuberous Sclerosis is one of the more common rare diseases and it is also one of the more fortunate, in my opinion. It's a horrible diagnosis – TSC tumours can grow in any organ of the body and no one can predict how severely a child will be affected – families live in fear of seizures, kidney disease, skin tumours, a life threatening lung disease and the many behavioural and psychiatric conditions that may or may not lie in their future. When these aspects of TSC come up they experience the trial and error of medications, brain surgeries, kidney embolisations. I know this first hand as my sister passed away at the age of 26 from TSC associated polycystic kidney disease.
However a TSC diagnosis also means you join an international community of dedicated health professionals – clinicians and researchers. We have strong patient organisations and good quality information about TSC available at our fingertips. We also have a promising treatment option in mTOR inhibitors that has been approved and funded by the Australian health system.
Today our UK colleagues have highlighted their battle to have the NHS fund mTOR inhibitors for TSC.
I encourage you to share this video, particularly if you have friends or family in the UK. And take a moment to be thankful for what we have in Australia.
There will always be more we can do here in Australia. With your help Tuberous Sclerosis Australia will continue to advocate for better services – in the health, disability and education systems. We will applaud good policy decisions and work with policy makers to help them make good decisions in the future. We will support research that takes us closer to a cure. We will continue to improve our information and support services. We will also encourage families living with TSC to be empowered in managing their TSC. If you are able to, I also encourage you to take a moment today to be thankful for what we have in the global TSC community.