Parachute Packs now available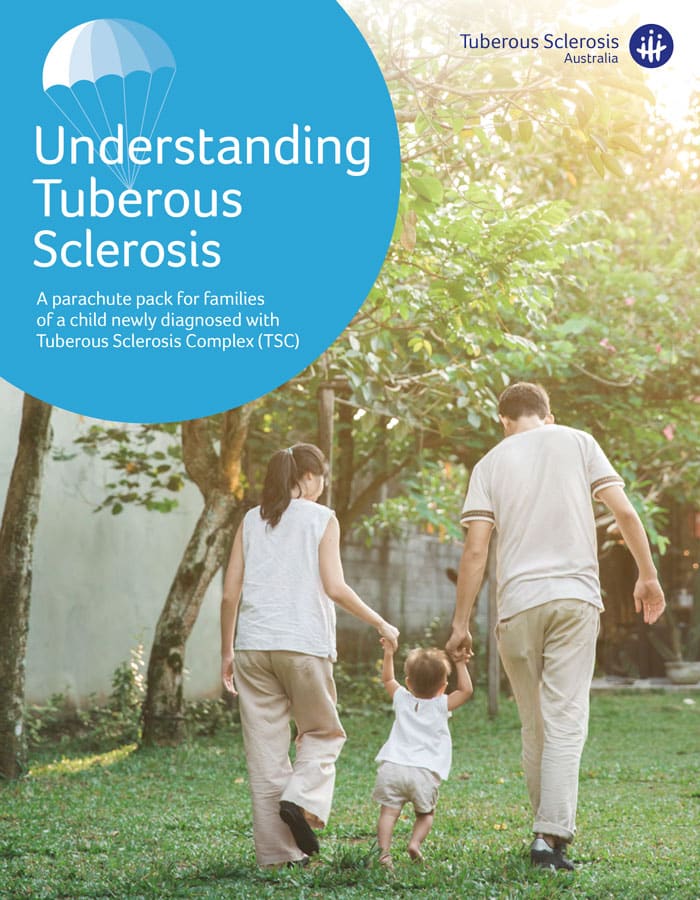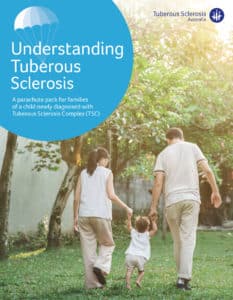 Thank you to everyone who joined us on Friday 15 May, TSC Global Awareness Day for the launch of our Parachute Pack. Click here to view a recording of the event.
Families of children who are diagnosed with Tuberous Sclerosis Complex (TSC) will, for the first time, have access to accurate, up-to-date support and information packs, ensuring they are aware of life-changing early intervention treatments for their child.
Thanks to funding support from nib foundation, Tuberous Sclerosis Australia (TSA) has developed the Parachute Pack, to support families with a child experiencing the rare and complex disease.
More than 2,500 people living with TSC in Australia, and about one million people worldwide. 70% of those who are diagnosed with TSC have no family history of the disease. President of TSA, Debbie Crosby, says parents are often blindsided by a diagnosis, and left searching online for information that is often outdated and inaccurate.
"Tuberous Sclerosis Complex is a rare and complex condition, that can have a range of harmful effects, such as difficult to treat epilepsy that if not treated early enough may cause intellectual disabilities, learning difficulties and autism. As it is a rare disease, not all health professionals know how to support a family after a diagnosis," said Mrs Crosby, whose own daughter has TSC.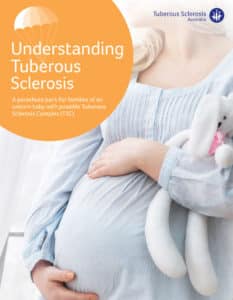 "New research is showing early intervention can really help reduce the most harmful effects of the disease in children. So, making sure parents have access to the right information at a very early stage is key to helping them make good, early decisions to hopefully lessen long-term health impacts," she added.
Research conducted by TSA found that parents did not know what to do once their child was diagnosed with TSC, that they often felt they could not access enough or the right information, and while 90% wanted to be involved in clinical trials, only around half had ever discussed this option with their doctor. The Parachute Pack is designed to help families access the right information at the right time.
"The Parachute Pack provides a central resource where parents can find out where to go for help, receive up-to-date information and understand what conversations to have with their health professionals to ensure their child gets the best treatment," Mrs Crosby said.
"It also provides them with support networks they can access during a time where they might otherwise feel isolated," she said.
Sydney Children's Hospital, Clinical Geneticist and TSC Clinic Co-Director, Dr David Mowat said the Parachute Pack is a great resource that will significantly help benefit families living with TSC.
"I think it is a very useful resource for families – informative, balanced with accurate information, nationally applicable and non-directive helpful advice – and is coming at exactly the right time," Dr Mowat said.
Federal Health Minister Greg Hunt had this to say about our new resources:
"While we know rare diseases are complex, they share countless commonalities, including the love and support individuals receive from friends and loved ones when diagnosed. For those living with Tuberous Sclerosis, a diagnosis can be daunting for individuals and those who support them. The Parachute Pack will assist them by providing up-to-date information, connections and support they need in the early days as they learn about this disease. I commend Tuberous Sclerosis Australia for putting together this resource for their community."