Tuberous Sclerosis Australia is thrilled to announce our new partnership with nib foundation.
Each year nib foundation donates around $2 million to make a positive difference to the health and wellbeing of Australian communities.
The Australian TSC community thanks nib foundation for choosing to support TSA's Parachute Pack – a new diagnosis resource for parents and carers. This generous donation of $30,575 will have a major impact on the lives of families devastated by a diagnosis of TSC.
Here is a little more information about the project and the difference it will make for our Australian TSC community.
The issue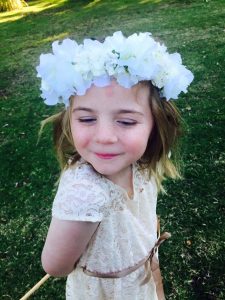 Every week, another baby is born in Australia with tuberous sclerosis complex (TSC) joining the 2,000 Australians already living with the complex genetic disease.
Families who find out their child is diagnosed with TSC are often led down a path of confusion and fear as the information they receive is often incorrect or out-of-date as they discover inaccurate information online about life expectancies and read worst-case scenarios.
Tuberous Sclerosis Australia has recognised a critical need to develop resources to address the lack of up-to-date and accurate information currently available at the time a child is diagnosed with this rare and incurable disease.
Gorgeous Greta is 9 years old and has tuberous sclerosis complex. Because of the lack of information available at diagnosis their journey with TSC got off to a frightful start. Thanks to nib foundation our Parachute Pack will provide life changing information and support to help families like Greta's at the time of diagnosis.
About the project
The Parachute Pack will give parents and carers the information, connections and hope they need to navigate their child's diagnosis of TSC. The Parachute Pack will help families have a safe and supported landing in the world of TSC.
Research has proven that the most harmful effects of TSC (epilepsy, intellectual disabilities and autism) can be reduced if treatment is started early – even before signs and symptoms like seizures appear – so educating parents early while supporting them emotionally is critical to the program.
The Parachute Pack will be distributed to paediatric health services across Australia and includes a check-list for parents to help focus on the immediate priorities of where to go for help; how to access TSC informed health professionals; and what tests and procedures they should seek early on to ensure the best outcomes for their child.
The impact
By providing accurate information and resources to support families and carers of children with TSC, Tuberous Sclerosis Australia aims to improve family functioning and parenting confidence and provide a smoother pathway through the health system after diagnosis.
Tuberous Sclerosis Australia also aims to improve health outcomes for the child with TSC through early intervention – eventually leading to lower rates of severe epilepsy, intellectual disability and autism.
Thank you nib foundation for making this important project a reality!