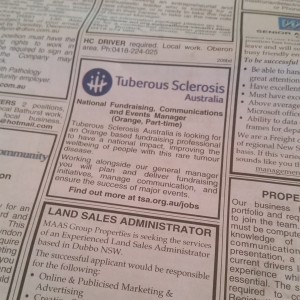 Build your career by joining the TSA team. This page lists the vacancies we are actively recruiting for. More information on volunteering is available.
National fundraising, communications and events manager (Orange NSW, part-time)
Tuberous Sclerosis Australia exists to improve the wellbeing of people with this rare tumour disease and their families. TSC tumours can grow in any organ of the body, commonly affecting the brain, skin, heart, lungs and kidneys. TSC can cause epilepsy, developmental delay and autism.
As the fundraising, communications and events manager for TSA you will make a real difference to the lives of people of all ages living with this condition by ensuring that our services can grow to address the support and information needs of 2000 Australians with TSC and that we can grow TSC research in Australia to improve treatment options and get us closer to a cure for TSC.
This is an opportunity for an Orange based professional to have a national impact. Working alongside our general manager you will plan and deliver fundraising initiatives, manage communications to donors and the TSC community and ensure the success of major educational and fundraising events.
Fundraising experience essential. Please see full role description for more information
Initial 12 month fixed-term contract with view to becoming permanent
Part-time – approximately 20 hours per week
Negotiable hours and work location; may suit working parent.
Full role description: Tuberous Sclerosis Australia FCE Manager
To apply for this position, please address these questions in a cover letter (maximum two pages):
Why do you want to work for Tuberous Sclerosis Australia?
What skills and experience will you bring to the role?
Send this along with your resume to [email protected]