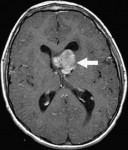 Efficacy and safety of everolimus for subependymal giant cell astrocytomas associated with tuberous sclerosis complex (EXIST-1): a multicentre, randomised, placebo-controlled phase 3 trial (Online release)
Released online this week, the EXIST-1 team have published long term safety data of the use of Everolimus to treat subependymal giant cell astrocytomas (SEGAs).
You can read the article abstract by clicking on the link below:
Read the abstract
The Lancet is one of the world's leading medical journals. The upcoming editorial includes this comment:
Franz and colleagues' study shows a response of subependymal giant cell astrocytomas to everolimus in a phase 3 clinical trial, and provides an encouraging example of how detailed knowledge of genetic and molecular abnormalities can pave the way to target specific pathways leading to improved outcomes in patients.
Our congratulations to the EXIST-1 team, including all the patients and their families for being involved in this valuable research. ATSS is proud to have had Australian patients on the trial under the care of Paediatric Neurologist and ATSS medical advisor, Dr John Lawson.