"This Christmas, you can help families like ours have someone to turn to for life changing help and support. As a parent of a child living with TSC (Tuberous Sclerosis Complex), we are so grateful to TSA (Tuberous Sclerosis Australia). TSA's assistance has been invaluable in helping our family navigate life with TSC and it is your generosity that makes this support possible.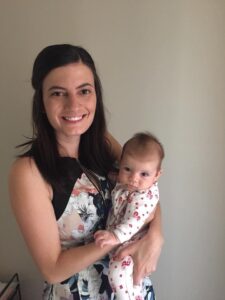 Almost five years ago, we looked forward to all the milestones first time parents expect to enjoy, with our new baby girl, Isabel. However, our daughter's life in those early days was very different from what we'd been expecting. We started to notice our beautiful daughter blinked a lot and sometimes for up to 20 seconds. Whilst we were assured it was normal, my motherly instincts told me that this just wasn't right.
After 6 months of investigations and many medical tests and appointments, Isabel was diagnosed with TSC just before her first birthday.  TSC is a rare genetic disease that one child per week in Australia is born with.
This was shocking and devastating news to us. Our Paediatrician said he'd never heard of TSC before, and admitted he had to Google it. He advised us not to Google it, as many articles were outdated and very distressing to read. Thankfully he suggested we go to the TSA website as it provides accurate, up to date information, and from there we connected with the wonderful team at TSA.
We have learned so much about navigating life with TSC thanks to TSA and their excellent resources, informative website, and TSC-specific education events.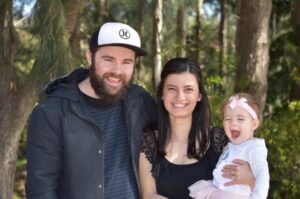 We feel incredibly grateful for TSA's advocacy work, fighting for better treatments and more research while we all hope for a cure. I honestly don't know what we'd do without them!
Isabel is looking forward to starting school next year. Her epilepsy is not under control at the moment and she is having around 8 seizures each month. We know this could make it a very challenging transition.
Isabel has also recently been diagnosed with Autism and we feel uncertain of what the future may bring.
We don't know if TSC will cause any other neurological disorders for our little girl but we believe she can achieve anything she wants to in life and are determined that her disability will not stop her.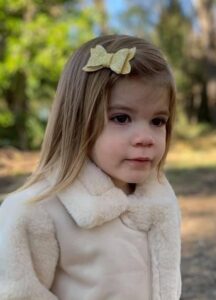 We know that with support from TSA we are in a good position to navigate what may lay ahead. That's why we want to help TSA raise funds this Christmas, so they can be there for families like ours and make sure that we all have someone to turn to.
It would mean so much to us if this Christmas you would make a donation to TSA so they can continue to help and support families like ours. TSA depends on our donations as they do not receive any ongoing government funding. We understand not everyone is in a position to donate so please give if you can, and share this appeal with your family, friends and colleagues and encourage them to give a Christmas-time gift.
Thank you for any help you can give. It really makes a difference to families like ours. From our family to yours, we wish you a Merry Christmas and a safe and healthy New Year."
Sincere thanks,
Samantha, Isabel's Mum