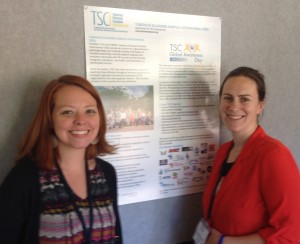 I was fortunate to be funded through TSC International to attend the recent TSC World Conference held in the USA. I have returned from this trip with lots of great information, some strengthened relationships and renewed inspiration for ways that we can continue our work to ensure that people with TSC in Australia have access to the best information, treatment and support.
Our rough plan is that we will:
Promote the videos recorded at the conference to TSC affected individuals and their families, highlighting those that are of particular interest. You can view all the videos produced by TS Alliance here.
Add this great series of videos to our Resource Directory, organising them into the topics they relate to and writing brief descriptions to help people choose which videos are of most interest to them. All the videos will be tagged with the 2014 World Conference Videos tag.
Update our information pages to reflect advances in research, clinical practice and the consensus guidelines for the surveillance and management of TSC. Because of our limited resources and because all our information pages are reviewed by medical professionals, this will take a few months.
Write new information pages on topics that are not well covered. The two that we've identified to start with are other organs (e.g. pancreas and bones) and women's health issues.
Continue working with our TSC International colleagues to promote the establishment and strengthening of TSC clinics and for access to topical rapamycin and other emerging therapies.
Continue to encourage the professionals from Australia that attended the conference to pursue their interest in TSC, particularly those interested in research.