Do something fun and get a tattoo to raise awareness and funds online for TSC
Don't worry, they're just temporary!
You can join this year's digital TSC Global Awareness Day celebrations on 15 May by joining our #Tatts4TSC campaign. Now in its third year, #Tatts4TSC provides TSC families with a simple and easy way to raise awareness about this rare disease and have some fun while fundraising to support TSA's work.
In light of the social distancing recommendations from the Department of Health due to the current coronavirus pandemic, this year instead of asking you to hold get-togethers with family, friends and colleagues, we encourage you to take your awareness and fundraising activities online.
Getting involved online is easy:
Register your online fundraising event. Click here to register and TSA will create a personalised online donation page sharing your TSC story. Check out Rachel's fundraising page from last year's #Tatts4TSC fundraising as an example of what we can create together.
Share your donation page via email and social media with colleagues, friends and family and ask them to donate in honour of your loved one with TSC.
On TSC Global Awareness Day, 15 May, post photos of you and your family wearing your #Tatts4TSC and share with your friends a little about the impacts of TSC and why we need their help. Please post photos of you wearing your tatts on Instagram and Facebook. Use the #Tatts4TSC hashtag and tag us @AuTSC.

Everyone who registers gets twenty free temporary tattoos to share with your family and supporters to help raise awareness about TSC. Get in quick to secure yours.
Why the wave?
You'll notice our temporary tattoo design features a wave. People living with TSC liken their journey to riding waves. There are highs and lows and unpredictable tides that threaten to tow you under. We believe that even though we often can't control the TSC waves, we can learn to surf.
Everyone who supports #Tatts4TSC can wear their temporary tattoo with pride, knowing they've helped someone with TSC learn to ride the waves.
Other ways you can  get involved
Even if you don't want to set up a donation page or an online fundraising event, you can still join us by purchasing a temporary tattoo. Simply purchase your tatts here and share photos of you wearing them on 15 May. You can add a donate now b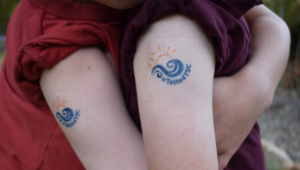 utton to your Social Media on TSC Global Awareness Day, just select Tuberous Sclerosis Australia.
Individual tattoos are priced at two for $10 (including postage) or buy five for $20.
Or you may choose to make a donation to support our work in celebration of TSC Global Awareness Day.
Please post photos of you wearing your tatts on Instagram and Facebook. Use the #Tatts4TSC hashtag and tag us @AuTSC
---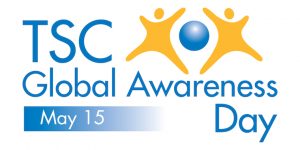 #Tatts4TSC is an initiative inspired by TSC Global Awareness Day. 1 million people worldwide have tuberous sclerosis complex (TSC).  There is no cure, but research is helping find new and better treatments. We won't give up the fight until we have a cure. This year join the worldwide fight on Global Awareness Day, 15 May.