Thank you for taking the time to complete our survey. The survey is now closed and we are working on a report that will be published here in March 2017.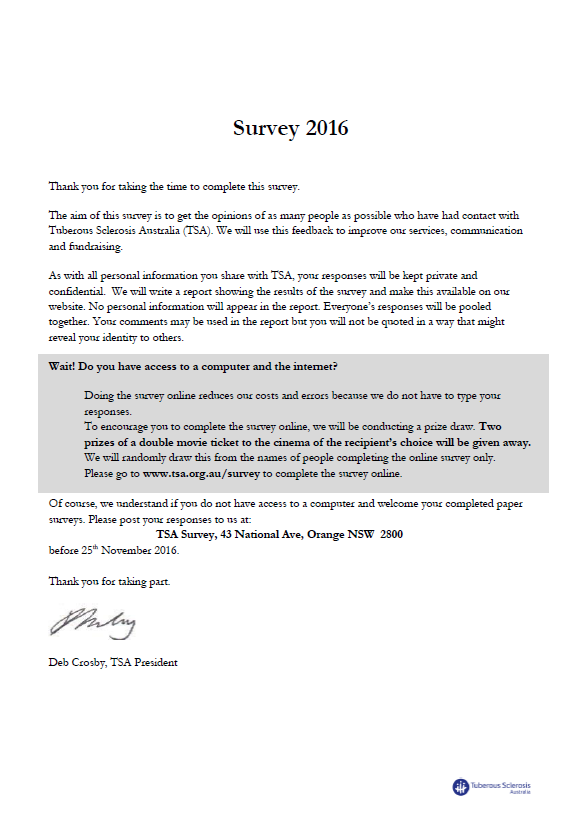 The aim of our 2016 survey is to get the opinions of as many people as possible who have had contact with Tuberous Sclerosis Australia (TSA). We will use this feedback to improve our services, communication and fundraising.
Privacy
As with all personal information you share with TSA, your responses will be kept private and confidential.  We will write a report showing the results of the survey and make this available on our website. No personal information will appear in the report. Everyone's responses will be pooled together. Your comments may be used in the report but you will not be quoted in a way that might reveal your identity to others.
Prize Draw
To encourage you to complete the survey online, we will be conducting a prize draw. Two prizes of a double movie ticket to the cinema of the recipient's choice will be given away. We will randomly draw this from the names of people completing the online survey only.
We appreciate you taking the time to contribute – our testers say it takes about ten minutes to complete. For more information about the survey, please contact us.
Please follow this link to fill out the survey: https://autsc.typeform.com/to/XDLwr3
If you would prefer to print and post the survey to us, you can download it at: https://tsa.org.au/wp-content/uploads/2016/11/TSA-survey-2016.pdf
Our 2014 Survey
During 2014, Tuberous Sclerosis Australia completed a survey of the TSC Community in Australia. The TSC Family Survey had the following objectives:
To find out more about people living with TSC in Australia.
Gather feedback on current activities of Tuberous Sclerosis Australia (TSA).
Understand areas of need that TSA may be able to address.
Provide a way for people living with TSC to build their feelings of ownership over the TSA.
Identify those who are willing to contribute to the organisations through volunteering, sharing their story, or fundraising.
You can read the results of the survey and the recommendations made to the TSA Committee here:
You can look at the survey itself here:
A poster presenting the survey results was presented at the 2015 international TSC research conference in Windsor, UK. Download the PDF here.
The results of the survey were included in Tuberous Sclerosis Australia's submission to the TSC Research Planning workshop held in the USA in March 2015.
Thank you to all the families that took the time to respond to this survey. For more information about the survey, please contact us.