Recently Selina, mother of Liam who lives with TSC attended and spoke at our 2018 Sydney TAND event. Selina writes a blog about the funny parts of life with TSC and autism.
Here is what she had to say: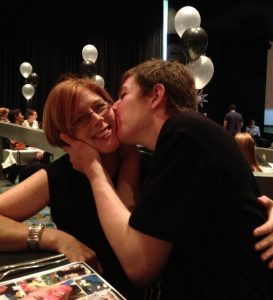 "Mr August and I recently attended a seminar in Sydney organised by Tuberous Sclerosis Australia (a wonderful organisation and you can donate here https://tsa.org.au/help). The room was full of individuals, parents, carers and professionals with lived experience of Tuberous Sclerosis Complex (TSC).
There is something incredibly comforting about being among people to whom you don't have to say 'it's a neurological disorder that produces sclerotic growths on the brain, heart, lungs and kidneys.' It feels like a big warm hug.
I was asked to deliver a brief parent overview which seemed well received. It's very difficult to stand up in front of a group of strangers with mostly younger children and resist the temptation to say, 'don't buy any expensive glassware, you'll regret it later!'
Because Tuberous Sclerosis is so variable. You can go for most of your life and never know you have it, which is why I refused the pre-natal screening test that had become available when the Lamington was still in utero. I mean, what a choice to make! A woman carrying a child with a genetic disorder has an agonising time of it, and I certainly don't wish to trivialise any person's experience of TSC, but there truly is such a massive variation in lived experience. TSC can make a huge impact on lives, or a more subtle impact. Areas that one would think are unimportant can be a huge pain in the ass for the person affected and their family. Each person is so different. To paraphrase one of the presenters, 'If you've met one person with Tuberous Sclerosis, you've met one person with Tuberous Sclerosis.'
Anyway, back to the seminar. It was about TAND (Tuberous Sclerosis Associated Neuropsychiatric Disorders), which is a term developed to diagnose, understand and better treat the array of neuropsychiatric challenges that come with TSC. These challenges include autism, ADHD, anxiety & depression, aggressive behaviour, learning difficulties and so on. It's quite a long list. In fact it's such a long list that I felt glad we hadn't known about all of this when Happy Chin was born. I also felt a deep respect for the parents in the room with younger children, or newly diagnosed children, who were absorbing all of this information with interest and (it appeared) equanimity. HC was born long before Google, before the internet even, so we couldn't jump online and scare ourselves with the array of symptoms this complex disorder can present.
On the other hand, we also couldn't jump online and help ourselves (and him) with information. We could have gone to the library I suppose, although I doubt there would've been anything in the medical shelves about TSC! There was a hospital brochure but it was pretty vague. So we just muddled through and hoped for the best.
How different things are for new parents today!  It's so heartening to hear about all of the new treatments available or at research and development stage that will dramatically improve the lives of people diagnosed with TSC. We have first hand experience of how fast developments in medical science are happening. After having been told in 2006 that neurosurgery for Happy Chin was not an option, a successful operation was performed in 2013. The technology had improved, neurologists could pinpoint seizure activity, and remove the tuber that was the source of that activity.
Outcomes for babies born today with TSC are so much brighter, and we were fascinated to hear about research in Europe which suggests that an EEG performed in newborns with TSC can detect abnormalities before the onset of seizures, and treat the baby right from the start, hopefully reducing seizures or even eliminating them occurring in the first place. What an amazing developmental gift this could be for a young child!
mTOR inhibitors (medicines which control cell growth in the body and therefore inhibit the growth of tumours) are another exciting and quite new development, with one drug, Everolimus, looking set to be added to the PBS this year. Our young man started on rapamycin (another mTOR inhibitor) this year, and we are seeing great results with his facial angiofibromas.
Professor Petrus de Vries, a visiting academic from the University of Cape Town, gave an engaging and informative presentation about TAND. During the afternoon sessions, he invited input from the audience about treatment options here in Australia and it was valuable to hear strategies other parents were using and services they'd been able to access.
We came away with a great sense of hope for the future.
Every day can seem like a burden, we can become overwhelmed by the constant medical appointments, behaviour specialist meetings, NDIS planning, actual day to day physical care of your child or family member (not to mention your other children), your relationship plus your paid work if you are employed.  You'll notice I don't mention housework as I hate it and as you can see, really don't have time for it anyway (does anyone know of an organisation that provides trustworthy volunteer cleaners? Actually, don't worry about the trustworthy part, Happy Chin has broken everything of value we ever owned so we've got nothing worth stealing!)
But in a room with a group of parents, carers and people who live and work in TSC, I couldn't help but feel a sense of purpose and pride that we were all working to make lives better for our loved ones. Human beings like to feel they're a part of something bigger than themselves, and working away at the coalface in your home or school or lab can feel like a very tiny, solitary thing to be doing. But get us all together and look at what we can achieve!
Unpacking TAND and all of its complexity gave such an understanding into the complex brain patterns of our person with Tuberous Sclerosis. Thank you to the TSA for organising such a great day. I'll be feeling much more charitable the next time Happy Chin chucks my Stephanie Alexander cookbook across the room."
You can read more of Selina's blogs at Happychinblog