In each edition of Reach Out, we publish the collective wisdom of TSC families from around Australia on a particular topic in a section called 'Just between us'. This article on the NDIS was published in the
April 2016 issue of Reach Out
.
Remember that, like all information in Reach Out, this page represents the opinions of the author(s) and not official pronouncement of Tuberous Sclerosis Australia. This information should not be used without first seeking medical advice.
Not everyone with TSC will have a disability. But for many that do their needs are complex and the NDIS brings major change to the way that disability services are funded and provided in most parts of Australia.
At the time of writing the NDIS continued to be debated in both federal and state politics. In talking to families about their experiences with the NDIS rollout some are very positive, some are quite negative. It is clear that such a significant change is not going to be totally smooth sailing. We hope that the information in this article is helpful to you and your families as you transition to a new way of providing support to people with a disability to dream and achieve their goals.
Find out more about the NDIS
Up to date information about the NDIS is available at www.ndis.gov.au or by calling 1800 800 110.

Our National Disability Insurance Adventure
By Selina Spowat. Selina writes about her family at www.happychinblog.wordpress.com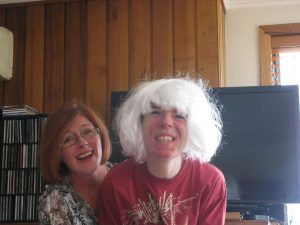 Our adventure with NDIS began in 2013, when our son Liam, then 18, became one of the first young people in Tasmania (and Australia) to receive a funding package.
We had been urgently seeking a group home for Liam for around two years, and the situation had reached crisis point due to his extremely challenging behaviours, which were creating a very unsafe and frightening environment for us and his two younger brothers.
Although we were assured we were 'top of the waitlist,' there were no places available for Liam and we were struggling along on three nights a fortnight of respite.
One care worker told me privately that if we just couldn't cope anymore we should consider abandoning Liam in respite, just dropping him off and not coming back. I'm so glad we couldn't bring ourselves to do that, especially given what was just around the corner for us.
The NDIS changed everything. We went from desperate supplicants to empowered consumers overnight. Suddenly, organisations were queuing up to offer us services. We were asked what Liam needed, invited to choose, provided with funding. When the organisation we were considering for residential support said, "There isn't a house available for Liam to live in right now," I thought, here we go again, the same old story! Then they said "Don't worry, we'll find one," and within two weeks they had sourced a private rental which Liam moved into shortly after.
We are now just over two years into our experience, and it's been hugely beneficial for Liam. He now lives in a terrific supported community of young people in a lovely beachside suburb. He goes on regular bushwalks, socialises with the residents, has two days a week of day support with a great organisation, and has a weekly swimming exercise session with an exercise physiologist to improve his general fitness and assist with continence. He has round the clock care in his brand new unit from a wonderful team of carers, who value him as a unique person and celebrate his achievements. A long term goal for Liam is to enter the workforce, so we are looking at his abilities to determine what he may be able to do in future. We can then put training programs into place. We had never previously thought that this would be a possibility.
All of these expenses are funded by NDIS except his rent, utilities, clothing and entertainment, which come out of his disability support pension. We continue to pay his medical expenses as these are not covered by NDIS (although continence aids and some health and wellbeing programs certainly are).
As a result of interactions with so many different people, his language and social skills have greatly improved. Neurosurgery to remove brain lesions in 2013 dramatically improved his seizures and led to a reduction in anti-convulsant and behavioural drugs, so he is much more settled, and his self control and impulse management is much better. He still has some challenges to face, but he is facing them with a caring team of around 20-30 people rather than just two stressed, exhausted parents. His brothers look forward to seeing him when he comes to 'Mum and Dad's house', and so do we.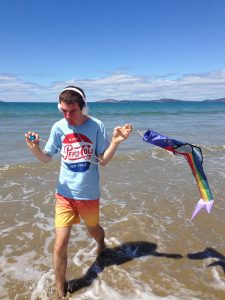 Now the NDIS is being rolled out around Australia, more people will have the chance to benefit. It is a very exciting time, and I'm glad to live in a country which is investing in our citizens with different abilities. We will all be (literally) richer if they are participating in the workforce. I also believe diversity in the workplace should be encouraged, it breeds tolerance and respect.
In sharing our experience with other parents, I hope I can help them avoid some of the mistakes we made, and provide a few tips to help them navigate their way through this very complex process. I'm also hopeful that the success of our story proves inspiring for those at the beginning of their journey (although we are by no means at the end of ours!)
Every individual, whatever their abilities, is different. I can only relate the experiences we have had and am well aware the services we accessed and the goals and priorities we had for our son will be markedly different for other families. Our story is told from a parent-centred perspective. NDIS encourages individuals to make choices for themselves, but in Liam's case we became the decision-makers, as he is a young man with high support needs and very limited verbal communication skills. I would certainly encourage parents to involve their child in any discussions where possible and practical.
"He has round the clock care in his brand new unit from a wonderful team of carers, who value him as a unique person and celebrate his achievements"
Choosing service providers: In our initial dealing with NDIS, we found the number of open doors quite daunting. We'd usually encountered closed ones in the past. As a result, we hurried through them without really taking adequate time to do our research. We also both had jobs and needed to work, so we tended to choose the first available day program. So we did have a couple of early disasters. I wish we'd taken more time over these early decisions, however it's important to remember that you can change service providers at any time. This again is something that was very new to us. It's a big mental shift from the desperate parents considering themselves lucky to get any services at all, which we were pre-NDIS.
Things to think about when choosing service providers
Think carefully about what it is you want for your child. Don't be afraid to dream big – where do you want your child to be in 5 years' time? In a job? Then look at accessing job training services. Living out of home? Residential services. You'd be surprised how many programs and services NDIS will cover.
The NDIS is person-centred. The aim is to put in place the supports needed to help your child be the person they are or want to become. You may already be accessing some disability services – are these of maximum benefit to your child? The NDIS will fund support that allows your child to 'achieve the same outcomes as their previous support,' although it may not be with the same provider currently used. This is a great opportunity to think about who your child's personhood, their interests and likes, their strengths and weaknesses, their personality. At planning stage, a lot of questions will be directed at getting to the core of who your child is, family and friends may be asked to participate. It's worth having a round table with all the family to discuss goals, interests and aspirations. The role of service providers should be to facilitate growth, to create opportunities and experiences to develop their client.
"This is a great opportunity to think about who your child's personhood, their interests and likes, their strengths and weaknesses, their personality"
What do you currently do for your child? Note down all the things you currently do for him or her every day. This is the level of support they will need in their funding package for a service provider to do it for them. I know it's tempting to 'talk you child up' and be proud that they can tie their shoes, or do up the zip on their jacket. But take into account the bad days, where they won't cooperate, won't wear their jacket, or take their shoes off and throw them. Use this as your baseline for the level of support they'll need. These days may only happened once or twice a month, but you'll have peace of mind knowing the funding is there should it be needed. If your child currently receives mobility allowance from Centrelink, factor in any transport needs, as they will cease to receive mobility allowance under NDIS.
The NDIS website has a list of registered providers in your area. It also has a list of prices, but this is not important at the initial stage. Choose the services you believe your child needs and be prepared with detailed reasons why they need them. Some services will require backup documents from therapists involved with your child. For example, in order to receive funding for Liam's exercise physiology program at the pool we needed a letter of endorsement from his occupational therapist.
As the NDIS aims to support the whole person, there are a large range of wellbeing options, ranging from physiotherapy to nutrition, exercise programs and swimming. Be well informed at the start and if you're not sure if a service is funded, phone or email and ask!
Time to chat: Once you've made some decisions around which services are needed, it's time to call or meet with them. First visit the Department of Social Services website (www.dss.gov.au) and read the National Standards for Disability Services. These will give you a good idea of what a service provider should be, well…providing.
"Remember, the switch to a person-centred orientation is new to service providers as well."
Questions to ask providers
What is their vision for an individual? Do they have a mission statement? Ask for a copy. Ask them how they implement their vision day to day.
Ask how they see their role as a service provider. Do they really understand 'person-centred' or are they more focussed on a rigid outline of what they do as an organisation. They may not be prepared to be flexible, to be committed to your child's growth journey, they may miss opportunities to develop and stretch her or him. Remember, the switch to a person-centred orientation is new to service providers as well.
Are the staff trained in alternative forms of communication (if your child has challenges in this area). If so, ask them to demonstrate for you.
All the services I have ever dealt with welcome visits. Make sure you also pop in unannounced from time to time. Observe the dynamic, watch how staff interact with individuals there. Check the surroundings. Come back at different times of day – the environment might be very different at 3pm, say, when perhaps groups of people are coming back from outings creating a noise level that may be too much for your child.
Overwhelmed? Get yourself a Coordinator of Supports. Liam has funding for around 6 hours a week for this service, and we went with an organisation who had been advocating for us for years and we had a good relationship with. Our Coordinator of Supports is an absolute godsend. She's up to date with who is offering what, can arrange everything easily, even down to simply ordering continence aids. She can short-cut the process of deciding on appropriate providers because she knows what they all offer, where their facilities are, if they are near any shops that sell Coke! She also keeps me on track with regular meetings to discuss long and short term goals, where we're going next with Liam and how we're going to get there. We had been trying to navigate the system ourselves prior to 2015 and one of the results was that we had funding lines in Liam's package we didn't even realise were there. Which brings me to my next point.
Know your child's funding package. It's easy to file paperwork away once you're done with your yearly planning meeting and think, well that's that done for another year. Needs change, priorities differ, children develop. Remember you can ask for a plan review at any time. Liam had $3000 worth of funding a year for continence aids at one stage, $1100 of which was for adult diapers. He didn't even use adult diapers, so we diverted these funds elsewhere. On the other hand, don't be in too much of a hurry to let go of funding if there's a chance your child will need it in the future, it's always worth keeping the worst-case scenario in mind. In our plan reviews, we've mostly been successful in accessing the services Liam needs, although we have had one plan revision declined.
Check online regularly to keep track of what has been spent. NDIS can provide you with an activation code. Be aware that service providers can see the funding details around the portfolio. Potentially there is a risk they will 'up the ante' if they can see extra funding hasn't been used, especially if they want the business for themselves. Liam's Coordinator of Supports is careful to check what has been billed is correct. Note that you don't necessarily have to use all the funding in a particular line. You won't lose funding the following year – although if you haven't used it all you may wish to review it.
"don't be in too much of a hurry to let go of funding if there's a chance your child will need it in the future, it's always worth keeping the worst-case scenario in mind"
So you think you're already good at filling out forms? Service providers and planning coordinators can only see the bare minimum of information you provide about your child to the NDIS. They will want to get exactly as clear an idea about him or her as the NDIS did at your planning meetings, so be prepared to repeat yourself a lot. The time spent writing or talking about your child will be enormously helpful in getting their supports just right. Even once supports are in place, keep the information coming. I never stop talking about Liam to all of his providers. I'm always chatting or emailing, I send photos of the things we've been doing, and assemble little photo albums that travel around with him. In return, I often receive texts or emails from his carers with photos or videos of what he's been up to that day.
Ask questions. Ask a lot of questions. And take someone with you to meetings. I can't tell you how many times I was in meetings with planners and coordinators and didn't understand half of what they were saying. Now, I'm not the world's most thick-headed person, but I'm sure I'm not the only parent who has sat there thinking "what on earth have they just said?" instead of stopping and saying, "No, I'm afraid I don't understand. Please explain what you mean in layman's terms." I spent a lot of time feeling ashamed of myself, and that I should know the answer if only I'd read the paperwork properly, and what would they think if I asked such a silly question? There are no silly questions, only silly people. Like me. Luckily, my husband isn't, and wasn't too shy to ask for clarification when it was needed.
"The time spent writing or talking about your child will be enormously helpful in getting their supports just right"
Talk to providers about your vision for your child. Tell them all about him or her, send pictures, relate anecdotes, swap favourite recipes. Take them along to doctor's or dentist's appointments with your child if you can (it's good preparation if they have to do this themselves in the future). Give them the opportunity to participate in the journey of a real person, a person with foibles, with likes and dislikes, with pets and family photos whose favourite colour is blue and who likes to sniff people to work out if they're OK to hang out with. Everyone seeks meaning in the work they do, and carers do one of the world's most challenging jobs in my opinion. So involve them, let them know how they're valued and how meaningful their work is to you and your child.
"So many of our dreams at first seem impossible, then they seem improbable, and then, when we summon the will, they soon become inevitable." Christopher Reeve
Good luck with your adventure!
Our experience with NDIS
From an interview with Debbie, Western Australia

I have two daughters with TSC. One of them, Amy, has been part of the Perth Eastern Suburbs trial site of the NDIS. Prior to the NDIS she received multiple therapies through one provider, funded through WA Disability Services. We were supported by awesome local area coordinators (LACs) who were very responsive and involved in planning for Amy's needs.
All of a sudden, the NDIS arrived. It was a bumpy start, with no records transitioned from the existing system to the NDIA. This 'fresh start' involved lots of new paperwork!
Our initial experience with NDIA was that they promised the world. This included Amy's current therapy, plus regular respite, time in vacation care, and swimming or hydrotherapy. This initial planning was centred on Amy's goals and I was impressed with the focus on Amy's needs. On top of this, the NDIA described how we would have a single point of contact for the plan
We agreed to this plan and our existing provider received their funding directly. This was the most important part of the plan for Amy and this transition was fine.
Other aspects of the plan did not go so smoothly.  During the planning phase we checked that existing providers were registered with NDIA. We were assured this would not be a problem. However when the time came for NDIA to pay for vacation care, payments were not made. We were not able to contact the NDIA by phone or email to sort this out. In the end we were able to use another source of funding to cover some of these expenses.
Other items in the plan, such as regular support each weekend were not used as we really didn't need them.
When a new need arose, the NDIS refused funding. This need was for supervision before school in the mornings for the short time between my drop off (to get to work on time) and school starting. Part of the rationale explained to me for not funding before school care was that another child Amy's age without a disability would also require this care. While I disagreed with this, as a child Amy's age could be left this short time in the playground, school drop off not safe for her. I this this comparison with a child without a disability challenging and think this needs to be balanced with the impact on the family and carers.
Our next hurdle was when the plan was up for review. The NDIA staff member did not see to be very familiar with disabilities and this made this process more difficult. Items included in the first plan were now not being offered. The language used was much less focussed on Amy's goals and needs. The expectations that were originally set were now being reset!
For example, when Amy's school does their swimming program, it would be great to have additional support to allow her to swim as well. Amy would need one on one support to do this. Instead, Amy is left behind at school and socially excluded from her peers.
On a more positive note, we were recently able to secure funding for the replacement of Amy's broken iPad. This required s professional assessment that Amy used this device as assistive technology.
My advice to others starting out with NDIS would be to start learning as much as you can. The most useful things for me were a local NDIS peer support group on facebook and one particularly knowledgeable local woman who has given me lots of advice. A peer support community can also be useful to vent to, diffusing some of your frustration before speaking to the NDIA directly.
I have also learnt that it is important to be prepared. The words used to describe goals and necessary supports can make a lot of difference. Seeking out others who have been able to secure similar supports can be useful to see what words were used. This may be a new system, but my experience is that it is still hard and you will still have to fight (and beg, borrow and steal!) for the support you need. Don't be afraid of this new system and if you are not happy, use the appeals process.