In each edition of Reach Out, we publish the collective wisdom of TSC families from around Australia on a particular topic in a section called 'Just between us'. This article on mTOR inhibitors was published in the October 2015 edition of Reach Out.
Remember that, like all information in Reach Out, this page represents the opinions of the author(s) and not official pronouncement of Tuberous Sclerosis Australia. This information should not be used without first seeking medical advice.
Ava's experience with mTOR inhibitors
Joelle, Ava's Mum, Western Australia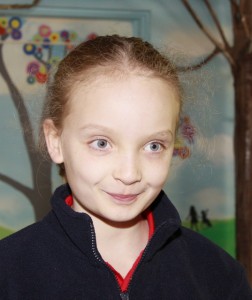 Ava is ten and has tuberous sclerosis complex (TSC). She loves gymnastics, drama and horse riding and is generally a very happy little girl. She has used mTOR inhibitors as a topical treatment for angiofibromas and also as a medicine to help manage epilepsy.
Through Dr Anne Halbert at Princess Margaret Hospital Ava was enrolled in one of the early trials of sirolimus to treat facial angiofibromas. Before that Ava had been having regular laser surgery which would take the redness away for a couple of weeks but then it would all just come back again. The cream was pretty amazing and after a week most of the redness had gone out of her face. Fast forward a couple of years and we only apply the cream once a day and looking at Ava you would not know anything was there at all. We are fortunate in Perth to have this funded through the hospital and we look forward to when this cream is available and affordable around Australia for people of all ages – we have 7 and a half years to make this happen for Ava! We couldn't be any happier with the face cream.
When we first started Everolimus for Ava's seizures she was already on three anti-epilepsy medicines and she had been through several brain surgeries. We heard stories of large reductions in seizures when people with TSC took mTOR inhibitor medicines and had such a good experience with the face cream. We paid for the medicine ourselves to see if it could work for Ava. Every time we increased the dose of the medicine the seizures would settle down for a couple of days and then they would return. If anything, by the time Ava was getting towards the maximum dose her seizures got worse and were quite scary. We don't know if this was related to the Everolimus as when we took her off the medicine those seizures stuck around. We stopped Everolimus and started using a hemp oil product in addition to Ava's anti-epileptic medications that has worked really well for Ava. We have now come off all prescription medication and seizures are relatively well controlled.
Ava didn't experience any of the negative or positive side effects. For example, she didn't have mouth ulcers and also didn't see any improvements in cognition, attention or sleep. Ava does not have any kidney AMLs or SEGAs in her brain that would have benefited. If Ava had other reasons to benefit from mTOR inhibitor medicine we would consider trying the medicine again. We know we are just one in a million stories out there and I know that TSC is a changing condition and I want as many options as possible.
Adam's experiences with mTOR inhibitors
Les and Peta Cope, Victoria

Our family first became aware of mTOR inhibitor medication when attending a Tuberous Sclerosis Australia conference in Sydney several years ago. At the time it had not been approved but we heard the story of a young woman who had it prescribed as a last resort. The change it made to her life absolutely blew Adam away. He wanted to try it immediately but this was not possible due to the constraints and affordability of this medication. Adam is 42 years old and has Tuberous Sclerosis Complex, complex communication needs, epilepsy, apraxia and cognitive difficulties. He requires support in all areas of his life including aspects of daily living, communication and to access the community. Apraxia affects his ability to carry out cognitive actions even though he knows what is required. As a teenager his cognitive abilities were easier to manage using physical and verbal prompts. As a middle-aged man he now struggles to maintain what he refers to as his earlier teenage angst. It is a much more difficult path for him now as constant absence seizures block everything he wants to do. When some cognitive actions or direct thinking and doing are required he may go into sleep mode as a coping mechanism.
The decision to try mTOR inhibitor medication came after it was placed on the Pharmaceutical Benefits Scheme. We approached Adam's neurologist who was sceptical as to what cognitive results it might have. He referred Adam to a kidney specialist as mTOR inhibitor medication is used to shrink growths in the kidneys. The kidney specialist working with the neurologist began with brain and kidney scans to establish a base line prior to beginning Everolimus. The kidney specialist began with a small dose of Everolimus to avoid potential side effects. The dosage was increased over a 12+ month period keeping a constant eye on Adam's health and well-being, including regular kidney and brain scans.
On his last visit to the specialist we were a bit disappointed to learn that his scans showed no change. However the specialist was pleased because there was no further growth. He was therefore very happy to increase the dose and continue with the treatment.
We are careful Adam maintains his health and where possible is kept away from others who might have infectious diseases. mTOR inhibitor medication effects the body's immune system, so healthy food, vitamin tablets and regular exercise are essential. His daily diary records all of these requirements along with general notes and observations from his workers and us. This ensures everyone working with him is on the same page and Adam's health, life plan and supports are maintained.
What has been observed during Adam's use of mTOR inhibitor medication?
His facial rash has lessened considerably and is not as noticeable. On occasions the redness reappears but this is minimal. He still has a number of large lumps on his chin though the redness on these has disappeared.
His kidneys are now much clearer than before starting the medication.
There has been no increase in the size or quantity of SEGAs in the ventricles of his brain. (Observed in scans for kidneys and brain taken twelve months apart.)
A number of cognitive improvements have been observed over the past twelve months. These gains are not yet constant. Other medications being used for seizure control are currently being withdrawn and are impacting on consistent cognition results. It may take another year before earlier medicines are out of his system. Sone improvements we have observed include:
Using only verbal prompts independently picking up an item, carrying it to the boot of a car, waiting and then placing it into the boot. He usually picks up an item with physical and verbal prompts but never completes the task. i.e. drops it or puts it onto the nearest available surface. Table, chair etc.
Sitting focused and interacting at a support meeting. Head held high and clearly listening without seizure distractions. Observed only a few times. Usually his demeanour is to have his head down and appear to be 'away with the fairies'. This is his way of coping with seizures or headaches.
Listening and interacting appropriately at a local writing group. Although his head was down on the table he was obviously listening while members of the group were reading stories. He usually crashes and goes to sleep with his head down on the table.
Interacting appropriately with friends in a café when his support worker arrives and others say 'hello Kerry'. Smiles, turns his head and eye balls her directly. Not observed before in the past 20 years.
We hope to see more improvements in Adam as we go through this process. Unfortunately it's not a clear case yet of seeing major reliable improvements as his body is so dependent on other medicines to counter his seizures. If the SEGAs in his brain are reduced as a result of the mTOR inhibitor medication that will be a major plus .The brain is a complex organ that has the capacity to create new pathways for improved cognition. We can only wait, hope and ensure his health is secure to enable him to continue with the medication safely into the future.
Several days after completing this article Adam had several falls which did not appear to be the result of epileptic seizures. On checking we found his blood pressure was far too high. This is not usual as Adams blood pressure is consistently within the normal accepted range. One of the many potential side effects of mTOR inhibitor medications is an increase in blood pressure. We are currently waiting for a response and report from his specialist to see what our next step should be.
Rebekah's experience with Everolimus
From an interview with Sue, Rebekah's Mum, Western Australia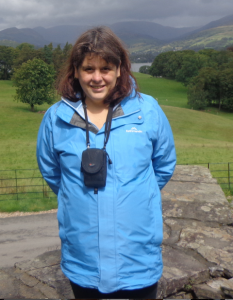 Rebekah has TSC and is in very good health. The first time Rebakah saw an urologist was in 2001; Rebekah was 28. This first visit was encouraged after attending a Tuberous Sclerosis Australia conference where it was suggested kidneys should be checked every 5 years (the guidelines now recommend 1-3 years). That was when we first learnt that she had angiomyolipomas (AMLs) in her kidneys. Rebekah had yearly scans for the first few years in which the AMLs increased.
She had one unsuccessful attempt at embolisation, a type of surgery that cuts off blood supply to the AMLs. Then they appeared to be steady for a few years. She was not required to go back for three years but then somehow that became eight and we saw an increase in both size and number of AMLs. Around the same time we saw the first signs of her kidneys not working as well as they should – her urine test showed raised levels of creatinine.
We talked to her urologist about options. We didn't think embolization was a good option as her many AMLs were being fed by a large number of very small blood vessels – they looked like spider's webs.
Did you have any challenges with accessing the medicine, such as special authorities or it being too expensive?
Around the time of our appointment Dr Chris Kingswood, a TSC expert nephrologist from the United Kingdom, had been in Australia speaking to kidney doctors about mTOR inhibitor medicines. He also spoke to families in Melbourne at a TSA event. Rebekah's urologist had heard Chris speak so was up to date on the research about the use of these medicines in TSC. The urologist had not prescribed these medicines before, so he sought the help of a nephrologist who had more experience in using Everolimus as a part of kidney transplant medicine.
Starting the Everolimus involved a monthly blood test to get the dosage right for her. Now we only have blood tests for this reason every three months. It also took a little while to get the dispensing process with the local pharmacy worked out as the medicine requires a special authority and takes a few days to arrive. This means that Rebekah has to be organised to make sure she doesn't run out.
Were you worried about using the medicine? What were the negatives of using the medicine?
The biggest challenge in starting Everolimus was the introduction of something new for Rebekah: more doctors, more blood tests, taking another medicine. She has told me that it would have been easier for her to have had a new medicine added when she was younger as she would have just grown up taking it, rather than worrying about something new now. Rebekah was quite worried after reading the list of possible side effects. Rebekah was also worried about which foods she could eat and I was worried whether there would be any interaction with her other medicines or the complementary medicines she takes, particularly when she gets a cold or flu. The nephrologist was able to assure us that these would not be a problem.
Rebekah did have a few mouth ulcers in the first couple of weeks that subsided very quickly and not chronic enough to really search for something to help with them. I don't think Rebekah has been getting more viral infections or other illnesses than she usually would; if anything I would say this winter she has recovered more quickly than usual from the usual seasonal viruses. When we travelled to Europe recently she was worried about getting sick and her doctor adjusted the dose to give her some peace of mind to enjoy the holiday and this helped.
What were the positives of using the medicine?
Everolimus seems to have done its job with her kidney AMLs. The first follow up scan last year showed considerable shrinkage. We look forward to another scan soon to see her progress. There have been other benefits as well. The ungal fibromas on her toes and fingers have disappeared, miraculously gone. Her facial angiofibromas have also improved and we've seen a remarkable improvement in her severe atypical dermatitis. Rebekah says that she feels she can think more clearly, she says her head is clearer. I have noticed (along with her family and friends) that she is much more interactive and initiates conversation more than she ever did.
Another benefit for Rebekah has been on a neuro-endocrine cyst on her pancreas. Around the time we started Everolimus we considered surgery to remove this 3cm growth as most doctors did not recommend taking a risk with a growth on the pancreas. We delayed the surgery when starting the Everolimus and on a follow up scan it had shrunk considerably down to 1.9cm. Rebekah's lungs were screened for LAM two years ago and showed early signs of this disease. A more recent test showed a small improvement in her lungs where usually a woman with TSC could expect a decline.
Overall Everolimus has been positive for Rebekah and we look forward to her next round of tests to check on the size of her kidney AMLs.
mTOR inhibitors in New Zealand
Helen Willacy, President of TSC New Zealand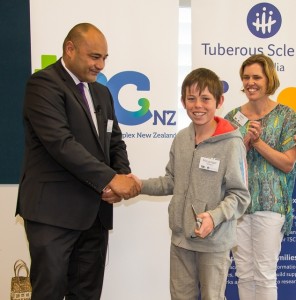 I think our story of accessing Sirolimus cream for our 13 year old son Mac is a great example of the power of groups like Tuberous Sclerosis Australia and Tuberous Sclerosis Complex New Zealand.
In 2011, my husband and I received a grant to attend the TSA conference held in Sydney. It was the first time we had heard about the growing body of research into using of mTOR inhibitors to treat various aspects of TSC. We were particularly interested in the Sirolimus cream to treat facial angiofibromas.
Mac had started developing angiofibromas at around age 3 and they were increasing in number, bumpiness and redness. He had been offered laser treatment in the past but had never wanted to go through what sounded like an unpleasant procedure with no guarantee of good results. When we heard there was an option of a simple cream that was effective, I was very keen for Mac to try it. To me, Mac's angiofibromas were a constant reminder of TSC and the uncertainty we were living with. There is a lot we can't control about TSC, but this cream had the potential to give us control over one aspect of it.
On my return from Australia, I set about finding out how we could access the cream. I tried seeing if Mac could go on the Sydney trial being funded by TSA but the trips to Sydney for the research checks ruled that out. Next stop was a visit to the GP asking for a referral to the dermatologist at our local hospital. To begin with Mac was told he could not have an appointment and they would not even put him on the waiting list, but that's another whole story about access to health services. Thankfully our GP pushed back and Mac was given an appointment. We turned up with our new found knowledge and enquired about getting a prescription for the cream. Predictably, the dermatologist had not heard of it before but was interested and said he would do some investigating and he applied for funding for the cream. At that time, the percentage of Sirolimus was thought to needed to be 1%. This meant the cream would cost around $7000 and our funding application was turned down.
A short time later I received an email out of the blue from the dermatologist. He had read the report on the Perth study into Sirolimus cream for children with TSC and the effectiveness of 0.1% in treating them. You can read this article at https://tsa.org.au/type/research-article/.
He was posting us a script and all we needed to do was find a pharmacy to compound it for us and pay the cost of the cream. Since the percentage of Sirolimus was so much smaller the price was a tenth of the original quote. This was still a substantial amount of money though and the first pot cost us around $450 NZD. Luckily our local pharmacy had Sirolimus in stock and were able to make up the cream.
I had a moment of indecision the night Mac was to first use the cream. Was it really safe and necessary to use this "experimental" treatment?! Was I being an irresponsible mother pushing for this? The information I had heard at the conference reassured me and we gave it a try. At first he applied it morning and night. The cream was a little gritty but by the morning that would be absorbed. He experienced some weepiness after applying it but that soon settled down. The results were almost immediate. After a week, the redness had faded and soon the bumpiness began to subside as well. There are still a couple of larger angiofibromas that do not seem to have changed but on the whole the result has been just what we hoped for.
Because of such a big improvement, the dermatologist suggested reducing the dose to at night only and that was more practical as well with the grittiness of the cream. Since 2012, Mac has used the cream. We found a small tub would last longer than 6 months and I felt the financial cost was well worth it.
After the conference in New Zealand in November 2014, I was encouraged by other's experiences of gaining funding for Sirolimus cream through the Special Authority scheme at Pharmac. Mac and I set off to the dermatologist optimistic about getting the cream funded only to find that our friendly dermatologist has moved on and the new one was reluctant to prescribe the cream off-label, let alone apply for funding for it! A little disappointed, I emailed her the article from the Perth study and waited. A few months later, we got the news were hoping for. Mac had a Special Authority Number and his cream would be funded for two years. We still have to pay a compounding fee but our most recent pot only cost $40 so a big improvement on what we had been paying. It has also been great to hear that another family in the area have also been able to get the cream prescribed and funded.
Mac does not use the cream every day and I feel that he has the right to decide what his face looks like. Maybe he will decide that he is happy with angiofibromas. After all they are a part of him and his identity as a person with TSC. However, it is awesome to have the choice available to him to be able to use the cream or not and I am very grateful for the information and research that has enabled Mac to access it. And looking back I feel pretty proud of myself too! A knowledgeable, patient, determined Mum can achieve a lot.