In each edition of Reach Out, we publish the collective wisdom of TSC families from around Australia on a particular topic in a section called 'Just between us'. In this issue we tackle the various ways that TSC can affect the kidneys. Thank you to Todor Arsov, currently completing his Masters in Genetic Counselling, who volunteered with TSA as part of his clinical placement. Todor interviewed each family by phone and has written up these powerful stories.This article was published in the
October 2017 issue of Reach Out
.
Remember that, like all information in Reach Out, this page represents the opinions of the author(s) and not official pronouncement of Tuberous Sclerosis Australia. This information should not be used without first seeking medical advice.
Oscar's Story
As told by his mum Kate in conversation with TSA volunteer Todor Arsov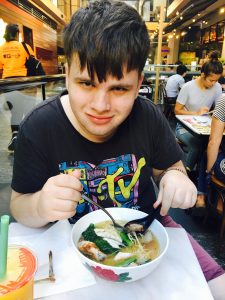 "Oscar was diagnosed with a metastatic renal cell carcinoma and the alarm bells went on! We were quite shocked … It sounded like there wasn't much we could do but buy some time with aggressive chemotherapy. Now I see friends and people on Facebook going through similar experiences of being told their child with tuberous sclerosis complex (TSC) has cancer … and it is terrifying! I would say to them, look into this carefully and seek a second opinion from a number of specialists with a range of experiences … Talk to other families with TSC … We have very good doctors who are experts in what they do but, if they don't see something regularly, it is quite hard for them to always make the correct call … It is no one's fault. Conditions like TSC are rare and people lack the experience …" says Kate, Oscar's mum.
Oscar's story is one of mistaken kidney cancer diagnosis which, though a possible diagnosis in TSC, requires careful consideration. The healthcare system has limited experience with rare genetic disorders, and this is why Oscar's mum, Kate, advocates sharing experience and knowledge between the under-recognised experts in the field – the families of people affected with TSC.
"An important thing for new families with TSC to know is that there are people like us out there who have gone through similar experiences in the past. We are now on the other side where we know our kids are OK and our families are OK.
"One big thing for me is time. When they hand you a diagnosis like cancer, the system doesn't allow you to feel you have time. But there are different ways to look at this, and there is always time to seek more information, talk to other families and seek second opinions," advises Kate.
Oscar was born 15 years ago, an only child and the only person affected with TSC in his family. Oscar's mum Kate, a registered nurse working in health and health policy, remembers her pregnancy with Oscar was uneventful. He was born a bit early, at 36 weeks, by caesarean section. Although there were some early signs of TSC such as early infantile spasms, a small heart calcification, an orange peel looking birth mark on his chest and hair poliosis, the diagnosis was not made until after Oscar's first birthday. Aged seven months, Oscar was diagnosed with temporal lobe epilepsy and at 12 months a heart ultrasound scan showed multiple rhabdomyomas in Oscar's heart. This prompted further investigations and led to the diagnosis of TSC.
"As a rare condition, TSC was so foreign to people, that although some early signs were present, nobody put the puzzle pieces together until Oscar was a year old", remembers Kate. "In terms of his condition, I feel Oscar has hit all the genetic outcomes of TSC. He has tubers and SEGAs (subependymal giant cell astrocytomas) in his brain, he has skin and kidney involvement, rhabdomyomas in his heart, a tumour behind his eye, and has been diagnosed with autism and intellectual delay."
After the diagnosis was established, Oscar's parents met with a genetic counsellor to learn about the genetics of TSC and receive advice about the risk of recurrence in future pregnancies. They talked to other affected families and received help from a family psychiatrist.
"For Oscar's dad and me it was clear. We were facing lots of unknowns for the future in terms of Oscar's physical and intellectual development and his ability for independent life. Everything we read in medical journals at the time was bad news and we knew we had to wait for years before we knew what Oscar's situation was going to be. We decided not to have any more children, and put all of our love and resources into Oscar."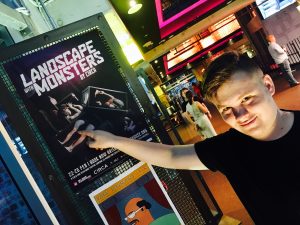 Oscar never had symptoms connected to his kidneys. He never had any pain, blood in his urine or increased blood pressure. His kidneys were first investigated at three years of age, when an ultrasound scan showed a few small kidney tumours which were not concerning. When Oscar was nine years old, another ultrasound scan confirmed the kidney tumours but this still didn't require any specific monitoring or treatment. The next routine kidney ultrasound scan at age 12, however, showed the kidney tumours had grown substantially. More alarmingly, it appeared that additional tumours had grown in his abdominal cavity.
"An oncologist was brought in and a head-to-toe MRI was done. That's when things got out of hand by way of jumping into a scary diagnosis too quickly. We have very good doctors here but, unfortunately, not many have had experience with children with TSC. The MRI showed that Oscar had what looked like a renal cell carcinoma: it was large, it was black on the images and looked very convincing. He also had two other growths in his groin that looked like potential metastasis. They also saw some round tumour-like growths in his lungs … They said it was cancer and the panic bells started …"
The diagnosis was an alarming one – metastatic renal cell carcinoma. Given the high risk of bleeding from the large number of tumours in Oscar's kidneys, biopsy for pathology confirmation of the renal cell carcinoma was deemed not safe. Surgery was not an option either and specialists felt that the imaging results provided enough evidence to start aggressive chemotherapy. Oscar was admitted into hospital.
"I remember this was all happening on a Friday afternoon. We had surgeons come in to tell us there was nothing much that could be done surgically, and the oncologist started talking to us about chemotherapy. It felt like what they were really saying was all we could do was buy Oscar some time with the chemotherapy …," says Kate with a heavy sigh.
Oscar's parents were in shock. They felt that all this was moving too quickly and decided to seek a second opinion. After two weeks of additional investigations and considerations, it was concluded that Oscar's tumour was in fact a lipid (fat) poor angiomyolipoma and not cancer and no aggressive chemotherapy was required. The two growths in Oscar's abdominal cavity which had been suspected to be cancer metastases were an undescended testicle and a benign cyst, and this was confirmed with a laparoscopic examination.
For the last 18 months Oscar has been taking Afinitor (Everolimus) and has regular scans to monitor the tumours. The tumours in his kidneys and brain SEGAs have not shrunk but they stopped growing with the treatment.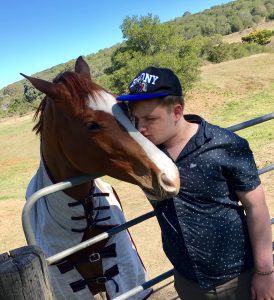 Oscar lives in Brisbane with his parents. He is very independent in terms of his daily life and is studying to obtain a Certificate 1 in volunteering work. Part of his curriculum includes reading, writing and arithmetic classes, but there is also vocational study involved such as working in the school coffee shop where he's acquired barista skills and working in the agricultural area where he learns gardening and horticulture. Oscar loves horses and spends one day a week working at a pony club. He often accompanies his dad on trips overseas, navigates his way through airports and has travelled by plane on his own. He also entertains the idea of parachuting from an airplane. Oscar is bothered by the heat and humidity in Queensland and hopes to move to Tasmania and have his own family one day.
"Today, we couldn't be more proud of where Oscar is at. We think that he will be able to get paid employment and live independently one day,"
Michael's Story
Told by his mother, Gail, in conversation with TSA volunteer Todor Arsov
Sometimes kidney problems can be the dominating feature of tuberous sclerosis complex (TSC). Michael's mother, Gail, tells their story about the complexities of managing the kidney problems in TSC.
Michael is the second of three children in his family and the only one affected with TSC. He seemed a healthy baby until six months of age when he experienced infantile spasms which prompted further investigations. The presence of clusters of tubers in his brain and heart confirmed the diagnosis of TSC. Michael has experienced difficult to control seizures throughout his life. He has a profound intellectual disability and uses a wheelchair. He is now 32 years old and lives in a managed care facility in the small country town in Victoria where he grew up.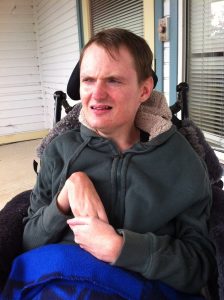 The first problems with Michael's kidneys started in 2005 when he was 20 years of age and in hospital in Melbourne, undergoing a procedure unrelated to his kidneys. He suddenly became unwell, started vomiting and was in a lot of pain, and this was accompanied with low blood pressure. It took ten days for the diagnosis and Michael was found to have multiple tumours in both kidneys. He was bleeding from his left kidney and this was causing his symptoms.
When TSC affects the kidneys, a number of tumours develop called angiomyolipomas or AMLs. There can be many tumours and they can grow quite big. In Michael's case some measured 16cm! For the most part they are benign (not cancerous) but they can bleed and, when they do, this is very painful. Sometimes, as in Michael's case, when the kidneys bleed, there may be no visible blood anywhere and no blood passed in the urine … or maybe just a few drops.
Michael's kidney stopped bleeding on its own, and a second bleed two months later again resolved without treatment. However, another month later, on Christmas day in 2005, the same kidney started bleeding again for the third time and Michael was transferred back to the hospital in Melbourne.
Michael and I were flown to the Melbourne hospital by air ambulance and a coil was inserted into the blood vessel in his kidney to stop the bleeding – a process called embolisation. He took quite some time to recover, had a lot of pain and did not tolerate nasogastric or peritoneal tube feeding so lost a lot of weight.
After this we made the difficult decision to move Michael into a care facility because of his complex medical needs and his loss of mobility (exacerbated by the long periods of hospitalisation). Living in a regional town, this meant that he had to move into an aged care facility at 21 years of age!
Over the next couple of years, Michael adjusted well to his new life in the care home. He receives care from professional medical staff and wonderful support workers from funding for young people in aged care. They take him on regular outings in the local community and to the nearby swimming pool which he enjoys. He also attends a local day program three days per week.
Things were going relatively well until 2009 when Michael experienced another spontaneous kidney bleed. He was hospitalised in the local regional hospital in the hope that the bleeding would stop. But, after two weeks of numerous blood transfusions and the bleeding starting and stopping, Michael was referred to a major hospital in Melbourne. This time, the bleeding was found to be from Michael's other kidney. The doctors tried to stop the bleeding by inserting 19 coils into his kidney blood vessels. It was a complex and complicated procedure which took nine hours under X-ray. Unfortunately, the bleeding continued and a decision had to be made to block the blood supply to the right kidney completely. This stopped the bleeding but Michael lost his right kidney.
This was a horrendous experience for Michael. He was in hospital for two months, with much of this time in the intensive care unit. He had many blood transfusions, his lungs were severely compromised from the pooling of blood internally and there were many other serious complications. He lost a huge amount of weight and the pain continued for a long time afterwards.
As we live in a small country town, our doctors don't have much experience with a condition like TSC. I wish we had not left Michael for so long in the local hospital waiting for the bleeding to stop, and we had gone to Melbourne sooner. He may not have lost his kidney.
Michael has not had any kidney bleeding episodes since.From 2014, he has been treated with Everolimus, an mTOR inhibitor medicine which can reduce the growth of some tumours in TSC. Recent kidney reviews showed the tumours in Michael's left kidney appear to have not grown. His left kidney, although full of AMLs with one embolisation coil and no visible normal kidney tissue, continues to work and his kidney function remains stable.
After all of these renal issues and ongoing uncontrolled epilepsy Michael has continued to amaze us with his resilience.
In the past I have always wished that there was someone looking after Michael's total medical care and making the decisions with us. However, I am pleased to say that, after 32 years, we have finally found a renal physician who has set up a team with a neurologist and a neurosurgeon to look after many of Michael's health needs.
People seem to know much more about TSC today compared to 30 years ago, thanks to the work of TSA.
My message to parents would be: don't wait for a kidney bleed to happen! Keep up to date with monitoring through MRIs and/or ultrasounds of the kidneys. Consider treatment earlier so that you can avoid a bleed. But if you do have the symptoms of a bleeding AML, act immediately and insist on being referred to a major hospital with experience in treating TSC.

Cooper's Story
Told by his mum Naomi in conversation with TSA volunteer Todor Arsov
Cooper has been treated for high blood pressure since he was five years old. At that stage the doctors were describing his MRIs as 'spectacular' but in a bad way. We were told that by the time Cooper is a teenager, he would be on dialysis and need a kidney transplant,"
says Naomi, Cooper's mum.
Approximately 80 percent of people with tuberous sclerosis complex (TSC) develop kidney angiomyolipomas (AMLs) and about 20 percent have kidney cysts. In about two percent of people with TSC, the kidney cysts are due to a co-existing second genetic condition called polycystic kidney disease (PKD). The cause of this is a loss of DNA that deletes both the gene involved in TSC and the adjacent gene involved in PKD. This condition is known as TSC2/PKD1 contiguous gene syndrome.
Cooper is 16 years old and lives with his mum Naomi and younger sister and brother in regional NSW. His story is special because, in addition to TSC, he also has PKD.
When Cooper was diagnosed with TSC at five months, the early kidney ultrasound showed some changes in Cooper's kidneys but they were considered part of the usual kidney involvement in TSC. What worried Naomi was Cooper's tummy. Like other babies, Cooper was born with a big, extended tummy which became more extended over time. Naomi pushed the physicians for another ultrasound at one year of age, which showed enlarged kidneys with many cysts. At this stage Cooper was diagnosed with his second genetic condition – polycystic kidney disease (PKD).
Cooper's physical development was not very delayed; he crawled by nine months and was walking by 15 months. However, he was very cognitively delayed. At the age of two he was mentally still a baby. For the first five years of his life the biggest concern was seizure control. He went to early intervention pre-school, then to a normal school but, socially and cognitively, he was very delayed and remained non-verbal. Like many people with TSC, Cooper also had some behavioural difficulties, particularly with medical professionals. He didn't like it when they spoke about him in his presence. He didn't like to be touched and would get very aggressive with the ultrasound staff, which is why monitoring of his kidneys was continued using MRI.
"At that stage the doctors were starting to say that, with medications, we could control the seizures and his development would go ahead, but the biggest problem for Cooper would be his kidneys. They used to describe the MRI findings as 'spectacular' in the bad way: the kidneys were very enlarged and full of cysts, with very little normal kidney tissue. We were told that by the time he is a teenager, he would be on dialysis," says Naomi.
At about five years of age, Cooper was attending the TSC clinic in Sydney where they regularly monitored his health situation. The routine blood pressure check-ups revealed Cooper had high blood pressure so was started on blood pressure medications. To date, he continues to take blood pressure medications and his blood pressure is well controlled.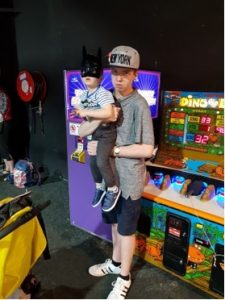 When he was seven years old, Cooper was diagnosed with a subependymal giant cell astrocytoma (SEGA), a non-cancerous tumour in the left ventricle of his brain causing hydrocephalus. Luckily, the SEGA in Cooper's case was detected on a routine MRI monitoring scan and he didn't have symptoms. The medical team looking after Cooper decided to operate and remove the tumour. However, the SEGA was embedded deeply in his brain and they could only remove half of it. Soon after this, the SEGA started growing again and it was at this time that Naomi was offered the chance to enrol Cooper in a clinical trial of a drug called Everolimus. Initially, it was a very big commitment involving a lot of medical check-ups, frequent blood tests and MRIs as part of the trial. Cooper was also quite ill from the side effects of the drug but, after an initial period of about 12-18 months, the side effects subsided, and the treatment brought many improvements in Cooper's condition.
"Cooper began taking Everolimus in 2009 when he was eight years old and he is still on it. It has been a wonderful drug for him. The drug was indicated to treat the brain tumour (SEGA) and it shrank, but the other effect it had was on his kidneys. The doctors can't understand how or why but his kidney function remains perfectly normal. They put it down to the continuous use of the drug. Also, the drug seems to have improved on his cognitive ability, speech and social confidence. He looks at his doctors now and has conversations with them. He also acknowledges my friends and engages with them."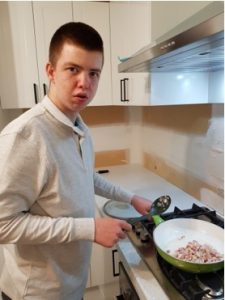 Cooper is in Year 10 in a support class at his local high school. Since puberty, he has grown and matured a lot, talks about getting a job, moving out of home and living an independent life. He's started playing golf, and is good at it. He continues to take Everolimus. His kidneys are not getting worse and continue to function normally. His blood pressure is controlled well with medications and Cooper works with his doctor to achieve 100 percent control of his seizures.
"One day, Cooper would like to live independently and have a wife and family. He never used to talk about these things and now he does. I am not sure whether this will ever happen but I am glad he is now able to consider these things,"
says Naomi with a sense of pride in Cooper's achievements.
"You can't go by everything they tell you in the beginning. We are having a very different child to the child we were told we were going to have when we received the diagnosis. The new drugs that have come through are doing an amazing job," says Naomi.
"I try to take one thing at the time and face each issue as it comes. You just can't know everything at once and you have to separate your head logic from your heart logic. One day Cooper may need a kidney transplant but that day has been pushed back and that is good …," concludes Naomi.
Editor's note: One of the challenges with mTOR inhibitor medicines is that research has not yet examined their effect on all aspects of TSC. Everolimus (Afinitor) is only approved in Australia for SEGA brain tumours and kidney AMLs. Read more in our
information page on mTOR inhibitor medicines.
Danielle's Story
Told by her mum Wendy, in conversation with TSA volunteer Todor Arsov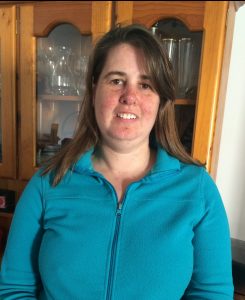 "When they gave us the diagnosis, I didn't know anything about tuberous sclerosis complex (TSC) although I am a registered nurse. I went back to my medical books and there was nothing there. I came up to Sydney and became a member of Tuberous Sclerosis Australia. Soon, I found there were five more families with children with TSC here in Adelaide. It was good to have someone to talk and being able to support each either," says Wendy, Danielle's mum.
This is how Wendy starts her story about her journey with TSC, remembering the "old days" before the internet when information was really scarce.
Danielle is now 35 years old and lives with her mum in Adelaide. She has an older brother and a twin brother.
When Danielle was first diagnosed, Wendy learnt that TSC would affect her brain (epilepsy), as well as her kidneys, lungs, liver, skin and that her development would be delayed. Serious kidney involvement didn't come to their attention until Danielle was in her early 20s when a routine scan detected the presence of large angiomyolipomas (AMLs) in both her kidneys. This prompted a review and change to her seizure medications, as some of these drugs may have negative effects on the kidneys. Five years ago, the examinations showed that one of the AMLs had grown quite big and was possibly obstructing the kidney outlet (urethra) which prompted further investigations. At this stage Danielle started taking Everolimus which has stopped the growth of the AMLs in her kidneys. She also uses sirolimus (rapamycin) cream for her facial angiofibromas.
"Starting the drug was good. It hasn't shrunk the tumours but it stopped them from growing bigger, so Danielle avoided surgery," remembers Wendy.
Danielle had also experienced a couple of episodes of kidney bleeding from the AMLs, accompanied with pain and blood in the urine. The first time she went to the hospital she was treated conservatively (rest and monitoring). Danielle didn't like being in the hospital, and when the bleeding happened again 12 months later, she refused to see a doctor as she really felt she didn't want to go to hospital.
"I have to rely on Danielle telling me if she feels any pain but I fear she hides it from me sometimes because she doesn't want to go to hospital. When she was younger I could keep an eye out for blood in her urine more easily but, now she is more independent, it is a bit tricky …"
admits Wendy.
Danielle's kidney health is now being regularly monitored with annual scans (ultrasounds and/or MRIs) and regular blood tests to check kidney function. She is also seen by a nephrologist and/or urologist annually for review. Her kidney function remains stable.
Danielle works at an Australian Disability Enterprise. Danielle has a boyfriend who she met at work. On the days they are not working, she catches the bus and meets him in the city where they spend time together.