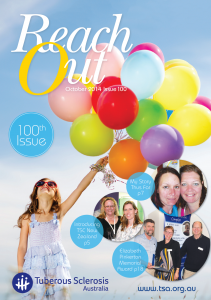 The October 2014 edition of Reach Out is now available online.
This edition's contents include:
•    A special focus on using the internet to find information and support – including advice from other families living with TSC
•    A celebration of the 100th issue of our magazine
•    Information about the launch of Tuberous Sclerosis Complex New Zealand (TSCNZ) and our name change to Tuberous Sclerosis Australia
•    An uplifting story of living with Tuberous Sclerosis from Leah from Hamilton, NZ.
… and much more news from Tuberous Sclerosis Australia.
If you would like to receive Reach Out by post, sign up as a member of TSA.