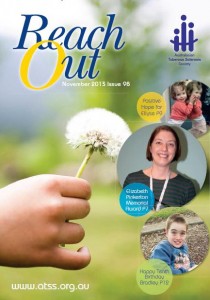 The November 2013 edition of Reach Out is now available online.
This edition's contents include:
A special focus on Autism with articles from TSC families and professionals
Personal stories from the parents of Elysse, Alana, Hamish, Bradley and Amelia.
The latest research news, including a summary of the recent international TSC research conference
… and much more news from ATSS.
If you would like to receive Reach Out by post, sign up as an ATSS Supporter or Champion.