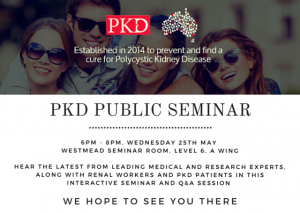 PKD Foundation Australia are a new organisation working to find a cure for Polycycstic Kidney Disease (PKD). Between 5000 and 6000 Australians live with PKD, and a small number of them also have tuberous sclerosis. Research has estimated that between 2% and 5%  of people with TSC also have PKD and this can be a life threatening combination. You can read more about PKD and the other signs of TSC in the kidneys on our information page.
Tuberous Sclerosis Australia have met with PKD Foundation and we will work with them towards their cure.
PKD Australia are holding their first public seminar on Wednesday 25 May at Westmead Hospital in Sydney. This event will feature a range of experts and an interactive Q&A session. There are 40 spaces which can be booked at https://www.eventbrite.com.au/e/pkd-public-seminar-tickets-24942859765
There will be a second 2nd seminar at Macquarie University in late June, for people who cannot attend this one or if spaces fill up. To keep up to date, you can register with PKD Australia.