Today we celebrate the academic publication of results from the Treatment trial. This research developed a topical cream to treat the small tumours that grow on the face of people with tuberous sclerosis. While these tumours, called angiofibromas, do not cause as many medical issues as the tumours on internal organs, they are a constant reminder of how a person with TSC is different to everyone else.
Our dedicated team at Sydney Children's Hospital, lead by Drs Orli Wargon and David Mowat, were the only international site in this multi-centre trial and joined other TSC centres of excellence around the USA to complete the study. The project was funded by over $200,000 raised through hundreds of donations and fundraising efforts of members of Tuberous Sclerosis Australia.
This project is the largest randomised clinical trial into this treatment for angiofibromas. The trial showed that 80% of people using the cream experienced significant improvement. The study also showed that the medicine stays on the surface of the skin, which means this cream brings few risks of side effects. The cream offers a safe and cost-effective alternative to painful repeated laser surgery that until recently was the only option for these disfiguring growths.
The medicine is not yet fully funded in Australia. Tuberous Sclerosis Australia will use these study results in our continued work to improve access and affordability of the cream. People with TSC can find out more about how to access the cream on our information page.
A huge thank you to all of the families that participated in the trial, which included many study visits and blood tests.
We also acknowledge the dedication of everyone who contributed to the fundraising campaign that made this trial possible – particularly the efforts of The Fundraising Friends committee including Debbie and Daimon Duffy, Matt Cashmore, Mark Gold, Nicole Moog, Kathryn Kennedy,  Hayley Hill and Sue Pinkerton.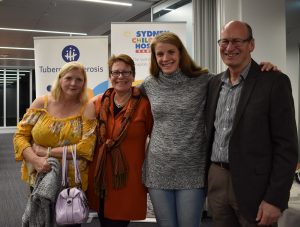 In collaboration with the team at Sydney Children's Hospital, we are planning media coverage and events to celebrate this milestone.