June saw the biggest Tuberous Sclerosis event ever held in Melbourne. An enthusiastic group of families and health professionals gathered at Royal Children's Hospital for the ATSS conference. The conference provided different perspectives from different speakers:three neurologists, an epilepsy nurse, a neuropsychiatrist, a kidney specialist, a support organisation manager and a geneticist all addressed different aspects of TSC.
Leading TSC researchers from Poland, Professor Sergiusz Józwiak and Dr Katarzyna Kotulska, shared the latest results from international research studies into epilepsy treatment, SEGA surgery and new medicines for TSC. This included the effectiveness and side effects seen in clinical trials of mTOR inhibitors (these include Sirolimus/Rapamycin and Everolimus/Afinitor) as well as novel treatment approaches for epilepsy in infants diagnosed with TSC. Other highlights included a summary of epilepsy surgery, a great discussion about treatment approaches for kidney involvement in TSC, and advice on accessing services in Victoria for children with a disability.
As with most ATSS events, the day was an opportunity for families to connect with each other. Stories were shared formally and informally. Our thanks to Narelle Kerr and Adam and Les Cope who shared TSC stories.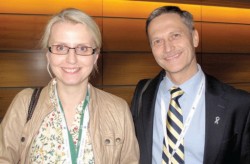 This event was made possible by the support of many people. Dr Simon Harvey, in addition to being a fantastic speaker, assisted in organizing the meeting and securing the fantastic venue within the newly renovated Royal Children's Hospital. The event was funded by an unrestricted educational grant from Novartis Pharmaceuticals and the generosity of ATSS's supporters. And of course, many thanks to the dedicated speakers who volunteered their time on a weekend to speak with families and attend conference sessions.
The 2013 family conference will be held in Perth in March and a Seminar Day will be held in Sydney in August. Both events will be opportunities to refresh information and renew connections.