We have been very fortunate to have 3 beautiful children. When our youngest, Bodie, was nearing 8 months old he started presenting with what we now know were infantile spasms. A few days and hospital transfers later he was clinically diagnosed with Tuberous Sclerosis Complex and we were given a whole new lens on life.
The toughest thing we have found about TSC is the unknown. It felt like the floor fell from beneath our feet when Bodie was first diagnosed. We still have a thousand questions that no one can answer because no two cases are the same. We know that Bodie will likely be medicated for life, we know that he will need life long monitoring and the rest is wait and see. We are just 5 months into our TSC journey having just celebrated Bodie's first birthday and the only certainty we can hold is that we will do everything in our power to give Bodie every chance of being the best version of him.
Bodie is an inquisitive and bubbly one year old. He loves his food, his sisters & manages to charm almost anyone he meets. Bodie has started crawling around the house and is meeting his milestones in his time with the help of an amazing village and allied team that he is surrounded by. Just like many one year olds he still manages to keep us up all night cutting teeth and practising his new tricks, each and every one we are grateful for.
We are participating in TSA's 40 years of service fundraiser because we have been so grateful to this organization. They caught us while we were free falling and continue to provide a safe and comforting space, filled with resources and networks that we know we will use while we navigate our way through the challenges the TSC presents.
We hope to raise $1,000 as part of the #40kfor40yearsTSCchallenge to help TSA celebrate 40 years, and to help make sure they'll be around for the next 40 years. Any gift you could give would be very much appreciated and truly make a difference to families like ours. Just click here to donate.
Thank you so much, Meg and Scott xx
How your donation helps
$50    allows us to answer a single support or information request
Our TSC Information Service provides free advice to those affected by TSC.  One call from a family about the importance of early diagnosis and intervention treatments and how to access them can change their child's life.
$100    allows an individual with TSC or their carer to attend an information event
Our virtual and face to face events provide an opportunity for people affected by TSC to learn more about the disease and meet other people living with TSC. These connections can be life-changing and can help to reduce the sense of isolation.
$250    allows us to update one of our medical information pages
Our medical information pages are the only source of accurate TSC information tailored to the needs of TSC patients and their families in Australia. The significant achievements of TSC research mean that these information pages require regular revision.
Your donation today will help us continue to provide our trusted information and support services for free to everyone affected by TSC by:
Maintaining this website, the only online source of accurate and up to date TSC information in Australia
Publishing and printing our magazine Reach Out twice a year
Providing a TSC Nurse service offering telehealth phone and email support
Organising and hosting educational events online for everyone in Australia
Advocating for improved services and treatment for families affected by TSC
Ensuring TSC affected individuals have access to all the latest global research and advancements in TSC.
Our donors have enabled TSA to champion many life-changing projects in Australia including:
Publishing a picture book to help children understand TSC
Funding an Australian clinical trial into a new medicine for TSC skin tumours (angiofibromas)
Creating New Diagnosis Parachute Packs for families receiving a new diagnosis of TSC
Development of a SEALS Genetic Diagnostic Laboratory, the first laboratory in Australia to offer genetic testing for TSC
Launching the In Safe Hands Education Resources to help teachers and educators understand how TSC may affect how a child learns.
Advocating for mTOR inhibitor medicines for TSC added to the PBS (Australian Pharmaceutical Benefits Scheme).
To find out more about how your donations make a difference, click here to read our latest annual report.
The vast majority of your contributions go directly to providing these important services and research. Much of our work is done by volunteers, working in their homes. This keeps our costs low, and ensures your money goes directly to support people living with TSC. Your support, however big or small, is greatly appreciated.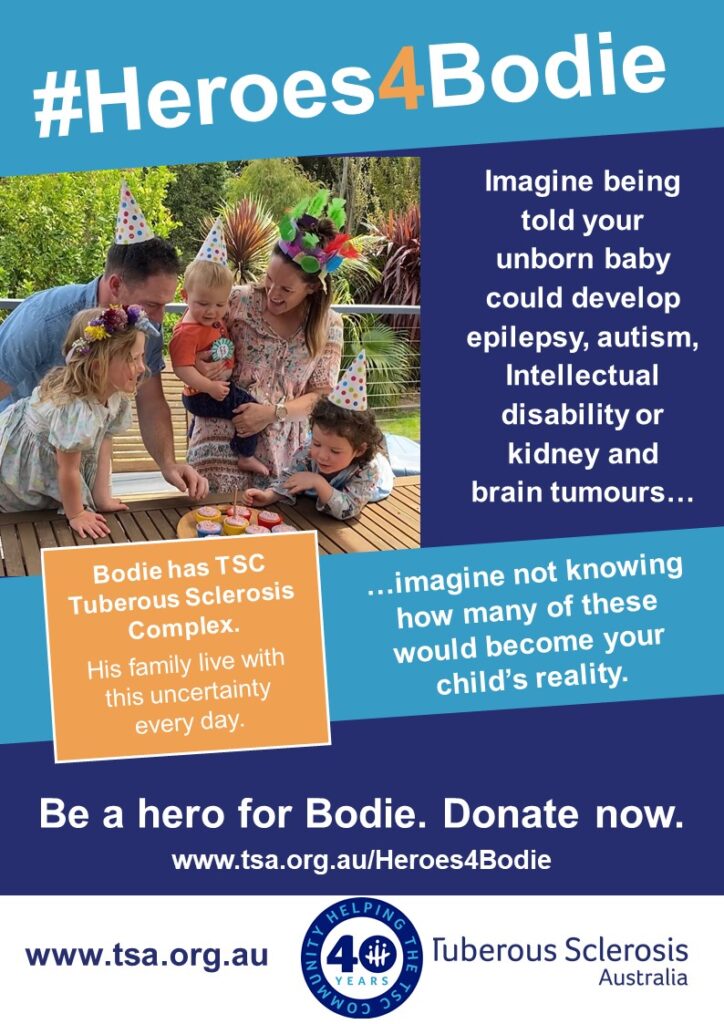 Amount Raised
$15,156.00
100%
raised of
$10,000.00
Goal
Bodie's TSC Heroes
Buildings and Property Division Monash University
The Joint Physiotherapy TJP