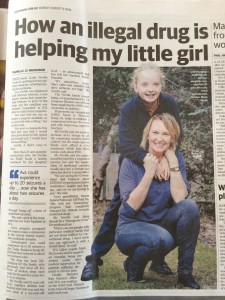 Joelle and Ava from Perth, Western Australia, have been featured in a Perth Now article describing the benefits that hemp oil has had for Ava.
"We were told she was no longer a surgical candidate, so we were left with nothing," her mother said…. More than 20 anti-epileptic medications later, Ms Neville has finally found a lasting treatment for her daughter through "hemp oil", a form of medicinal cannabis. The only catch is the treatment has not been legalised in WA.
Hemp oil is not legal in Australia and has not been assessed by the therapeutic goods administration (TGA) as a medicine. We recommend you discuss any new medicines or other treatments with your medical team before taking any actions.
Read the full article