One million people worldwide have tuberous sclerosis complex (TSC). In Australia, one child is born with TSC every week. There is no cure, but research is helping find new and better treatments. We won't give up the fight until we have a cure.
To join the worldwide fight on TSC Global Awareness Day, May 15 we'd love you to share TSA's inaugural Light the Way Giving Day appeal. By choosing to share this message, you will help create awareness of this rare disease and help raise funds so TSA can continue to provide a beacon of light and hope for families facing the daily challenges of life with TSC.
Watch this video to see why we need your help and support.
Alternative ways to get involved include:
Step 1: Create a post on Facebook or Instagram. Share a photo along with a little about how TSC has impacted you and your family. You could also include how your supporters can make difference.
Step 2: On Facebook simply add a 'Donate' button to your post and select Tuberous Sclerosis Australia as the charity to benefit.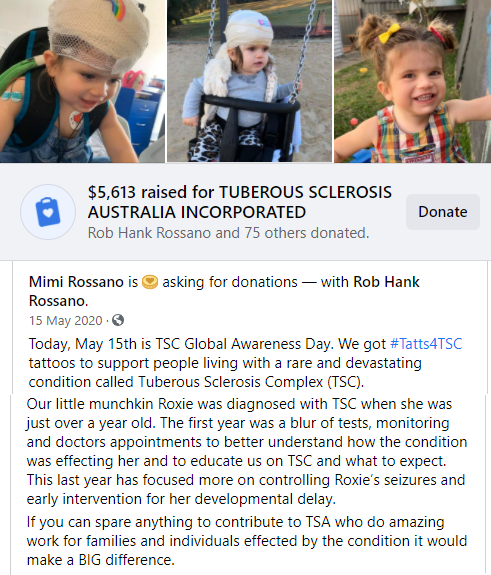 Step 3: Share your post on May 15.
Check out an example over here      →
in 2020 Mimi and Rob Rossano inspired their family and friends to give over $5,000 in support of TSC Global Awareness Day in honour of Roxie.
You can do this too and help everyone living with TSC in Australia feel informed, empowered and connected.
Join our team of TSC Heroes participating in this half marathon in Hyde Park Sydney. Create a fundraising page with mycause and encourage your family and families to support you by making a donation to TSA.
You may choose to make a donation to support our work in celebration of TSC Global Awareness Day.