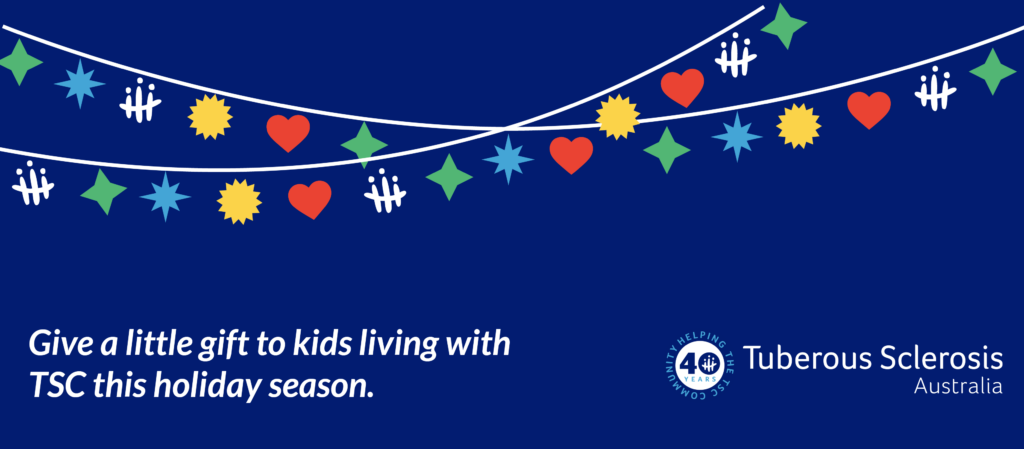 A diagnosis of Tuberous Sclerosis Complex (TSC) often comes as a terrible shock. Every week in Australia one family faces this devastating diagnosis. It can affect anyone, even where there is no family history of the disease.
This holiday season we invite you to give a little gift to help children, adults and families impacted by this life-long complex genetic disease. Whether you choose to give a little or a lot, your gift can help make a difference to the one million people around the world facing the daily challenges of life with TSC. Your gift will help give support, connection and hope. A little gift goes a long way.

This year marks 40 years of Tuberous Sclerosis Australia (TSA) providing support, connection and hope to our TSC Community in Australia. Before TSA was established there was nowhere and no-one to turn to when you first heard the scary words TSC. There were no known experts in Australia who could provide up to date and accurate medical advice, little information in libraries, no google search and no specific TSC treatments. There was no help on hand to reduce the feelings of fear and isolation that a rare disease diagnosis often brings.
Fast forward to 2021 and there is now an extensive team of people in Australia and around the world – through TSC International – helping and supporting everyone affected by TSC. TSA staff and volunteers are dedicated to creating a better life and a more hopeful future for every individual living with TSC. TSA empowers, connects, and supports people affected by TSC, providing up-to-date information on research, treatments and management.

And while the outlook for a child born with TSC today is very different to that of a child born 40 years ago, or even just 10 years ago, there is still much to do. Through earlier and more effective interventions we can continue to bring hope as we work towards a cure for TSC.
Our biggest goal for the year ahead is to help progress a new research project, STOP2 in conjunction with the team at Sydney Children's Hospital focusing on the safe use of mTOR inhibitors in infants under 2 years of age. For over 20 years researchers have studied the safety of mTOR inhibitors. We believe it's time to find out what happens if we give this medicine at the time when it's most needed for normal brain development. Could this be a game changer for TSC? We need your help to find out.
Our hope for the future is that through early diagnosis and intervention we can change the trajectory of TSC so that every baby born with this condition will enjoy a life unaffected by their TSC diagnosis.
Your donations can help us get there. Step by careful step, TSC research is helping take us closer to our goal.
Thank you for giving a little gift to TSA this holiday season. A little gift goes a long way.

.