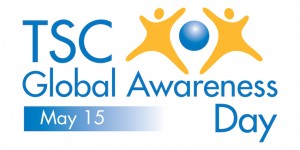 During May, TSC organisations around the world make an extra effort to raise the awareness of TSC in the wider community. For some people, global awareness day could be the first time they hear of TSC. We hope they are motivated to find out more and read the stories of the individuals living with TSC and their families. For others, global awareness day offers a chance to deepen their knowledge of TSC. We hope they will understand that TSC affects everyone differently and that TSC research is unlocking the secrets of autism, epilepsy and even cancer.
Here's how you can learn more about tuberous sclerosis during May.
The #IAMTSC project, by Tuberous Sclerosis Alliance
The Tuberous Sclerosis Alliance, our sister organisation in the United States, have developed the #IAMTSC public awareness campaign – aiming to reach members of the general public to explain Tuberous Sclerosis, the importance of TSC research and the stories of the million people worldwide living with the disease.
Facts to share each day during May
We've been sharing these facts on our facebook page each day. We hope you will like and share them to help them reach as many people as possible.
Read about the people living with TSC all around the world
With one million people living with TSC, this gallery is only the tip of the iceberg.
Here's some of the Australians and New Zealanders who have shared their stories with us.
TSA also publishes longer stories from people with TSC and their families.