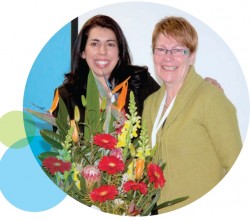 Sue Pinkerton has completed her final term as President of the Australasian Tuberous Sclerosis Society. ATSS will continue as a vibrant organisation under new President, Debbie Crosby, while Sue moves on to new challenges in other areas.
As President of ATSS, Sue Pinkerton dedicated countless hours of work to improving the lives of families affected by Tuberous Sclerosis Complex. She has guided the growth and development of ATSS to ensure that it continues to be of support for families in new ways.
Sue joined ATSS in 1985 after the birth of her daughter Lizzie, who was diagnosed with TSC at seven months; in 1986 she joined the ATSS Committee. Sue became the President of ATSS at the Annual General Meeting in 1994 and served as President until 2001. She remained as a member of the Committee until 2003 when she became President again, continuing in that role until this year.
Sue has overseen and been the driving force of numerous major achievements of ATSS over many years. These include:
The introduction of family conferences, one of the Society's major activities. These conferences provide the opportunity for families affected by Tuberous Sclerosis to hear professional speakers present on a range of topics. Sue organized and arranged many conferences, and facilitated their smooth running.
As President, Sue established and maintained connections between ATSS and a number medical and other professionals. This has enabled members of ATSS to have up to date information regarding research and treatment of the symptoms of Tuberous Sclerosis Complex. Sue gave numerous presentations regarding Tuberous Sclerosis Complex. These have included speaking to medical students about TSC, and presenting at meetings of service clubs such as Rotary.
Sue assisted with the establishment of the Association of Genetic Support Australia, an umbrella group for support groups for those affected by genetic disorders, and was a member of its inaugural committee.
Sue answered many telephone calls from families and individuals affected by TSC, and responded to correspondence from families, medical professionals and other interested people.
ATSS receives no ongoing Government funding. Sue actively sought funds for ATSS through writing submissions for special projects, encouraging donations, and the development of other fundraising initiatives. A partnership has been established with Novartis Pharmaceuticals.
The establishment of a genetic testing laboratory in Sydney for Tuberous Sclerosis. This laboratory is the first in Australia to offer gene testing for Tuberous Sclerosis, and is also the first non-profit genetic testing facility for TSC in the world.
Production of an Australian DVD about Tuberous Sclerosis Complex, 'You Are Not Alone'.
The ATSS 2007 Medical and Family Conference. This was the first time in Australia that international experts and Australian medical professionals and families affected by TSC were brought together. The conference was held at the Sydney Children's Hospital in November 2007 and was officially opened by Her Excellency Marie Bashir, Governor of New South Wales.
Sue worked in conjunction with staff at Sydney Children's Hospital to establish the TREATMENT trial.
Establishment of the annual Elizabeth Pinkerton Memorial Award for a health professional in Australasia who has made a significant contribution to the management and treatment of TSC affected people.
It was one of Sue's hopes for many years that ATSS would be in a position to have a paid employee. This was achieved in 2011 with the employment of a parttime Project Manager.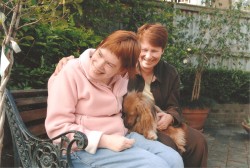 Sue has encouraged and inspired others by her energy and commitment. She has devoted her time to the work to ATSS in a purely voluntary capacity. Over the years she has been a vital contact for many families affected by Tuberous Sclerosis and has provided valuable information and support. Sue's leadership has ensured that ATSS will continue to meet the needs of families affected by Tuberous Sclerosis Complex.
As a wife and mother, as well as working full-time as a teacher of hearing impaired children, Sue has been able to balance care for her family and a professional career with dedication to the work of ATSS. A remarkable achievement.