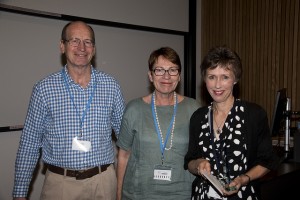 The Elizabeth Pinkerton Memorial award is given annually by TSA to a health professional to recognise their efforts to improve the lives of TSC affected families in Australia.
Dr Anne Halbert was presented with the 2015 award at the 2015 Australian Tuberous Sclerosis Conference. This award recognises Anne's decades of work with TSC patients and their families providing clinical care and also contributing significantly to TSC research.
Elizabeth (Lizzie) Pinkerton (1984 – 2010) had Tuberous Sclerosis Complex and Polycystic Kidney disease. Lizzie lived a life full of friends, dancing and laughter. She provided inspiration for her family's involvement in TSA for over 25 years, particularly her mother Sue as President of TSA (when it was The Australasian Tuberous Sclerosis Society).
Anne Halbert graduated in medicine with Honours from the University of Western Australia in 1987. After training in dermatology in Perth, she was awarded the Florence Bequest to undertake a fellowship in Paediatric Dermatology in Denver, Colorado. On returning to Perth in 1995 she commenced private practice and sessional work at Princess Margaret Hospital for Children, where she has been Head of Department for 16 years. She has special interest in difficult atopic dermatitis, genetic skin disorders and vascular malformations. After publishing on the use of topical mTOR inhibitors in children with tuberous sclerosis, she is now studying the effect of oral mTOR inhibitors in complex vascular malformations. She maintains close connections with the North American Society for Pediatric Dermatology and is involved in dermatology training through the Australasian College of Dermatologists.
Many nominations were received for Dr Anne Halbert, including these comments from the TSC community: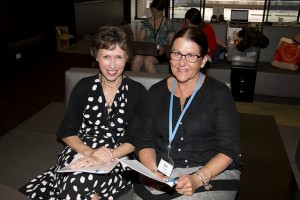 "An amazing Dr who has helped children in WA deal with Angifibromas by not needing Laser and having the Rapamycin Trials (cream). My daughter was very fortunate to be one of the first children in WA on the Trial and we could not be more happy with the results, and how less traumatic it has been, as Mia doesn't need Laser every 3-4 months"
"Dr Halbert has worked for many years now with children who have TSC and their families. She has a lovely caring compassionate manner and is always so supportive and understanding in her interactions with the children and their parents. She should be congratulated for initiating a trial for the use of topical rapamycin for the treatment of facial angiofibromas in children with TSC. It was instrumental in allowing all children with TSC in Western Australia to have access to the cream and therefore to avoid the need for regular laser treatment usually under general anaesthetic. The difference this made to our life was very significant and cannot be understated. I am sure all other TSC families would support this. I feel that Dr Halbert is very deserving of this award given her commitment to improving the lives of children with TSC and her support of their families."
"Dr. Anne Halbert has been treating children with TSC for many years for facial angiofibroma. As well as seeing patients privately, Dr. Halbert instigated a clinic at Princess Margaret Hospital for Children to provide laser treatment and extended this to adult patients in her care. Her passion and commitment to enhancing the lives of TSC people lead to the research and trial of using rapamycin cream with great success"
"Amazing foresight, care and initiative in trialing Sirolimus Ointment for the treatment of facial angiofybromas, and for making it freely available for paediatric patients in Western Australia. A lovely lady too!!"
"