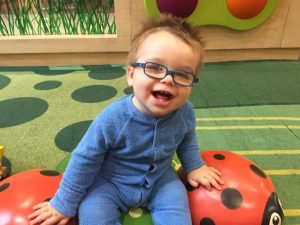 Tuberous Sclerosis Complex can strike anyone at any time. Luckily for little Sammy TSA were there to help. 
Sammy was born with the rare genetic disease tuberous sclerosis complex (TSC). Despite the heartache and tears this devastating diagnosis often brings, Sammy's parents, Natalie and Mark also feel incredible gratitude for the amazing medical care they've received, for the outpouring of love, support, and generosity. And for the information and advice, they've received from the team at TSA.
Please make a tax-time donation today to help Tuberous Sclerosis Australia be there to inform, empower and support families like Sammy's.