There is a lot of interest around what the plan is in regards to the rollout of the new COVID-19 vaccine.  The Australian Government has now confirmed the broad picture of the National Rollout Strategy. Here is a brief summary of what we know so far.
Who is getting the vaccine first?
The delivery of vaccines will be in phases, with those identified to be most in need receiving the vaccine first.
Phase 1a:
Quarantine and border workers
Frontline health care worker sub-groups
Aged care and disability care staff
Aged care and disability care residents
Phase 1b:
Elderly adults aged 80 years and older
Elderly adult aged 70-79 years
Other health care workers
Aboriginal and Torres Strait Islander people aged 55 years and older
Younger adults with an underlying medical condition, including those with a disability
Critical and high risk workers including defence, police, fire, emergency services and meat processing
Phase 2a:
Adults aged 60-69 years
Adults aged 50-59 years
Aboriginal and Torres Strait Islander people aged 18-54
Other critical and high risk workers
Phase 2b:
Balance of adult population
Catch up any unvaccinated Australians from previous phases
Phase 3
< 18, if recommended.
How will it work?
This video explains how the vaccine works.
Initially, the doses will be made available for priority groups in 30-50 hospital hubs across Australia with vaccination teams going out to aged care and disability care facilities. But as the process expands to other groups, further locations will be made available.
The COVID-19 vaccine will be voluntary, universal and free.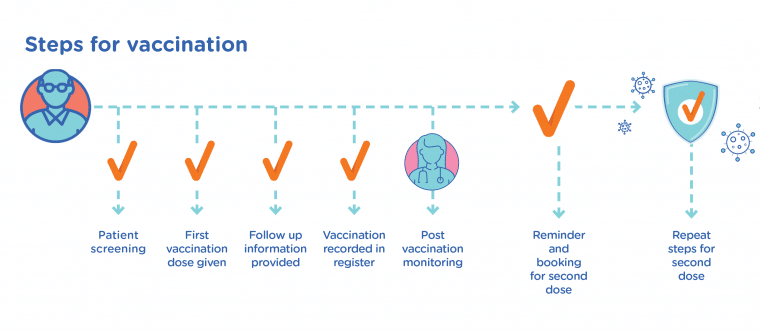 What do I now?
A COVID-19 vaccine is just one part of keeping the community safe and healthy. It is important that everyone continues COVID-safe practices including hand hygiene, physical distancing and wearing masks when required
You can find more detail here.  This information may change. You can subscribe to stay up to date with the latest updates here
If you need more information about the COVID-19 vaccine contact the National Helpline on 1800 020 080 or email [email protected]
For information in other languages visit here