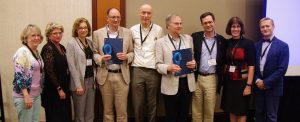 Tuberous Sclerosis Australia (TSA) would like to congratulate Professor Julian Sampson and Dr Chris Kingswood on being awarded the Manuel R. Gomez Award by the global tuberous sclerosis complex (TSC) community.
The Gomez Award is given in recognition of those who have made a significant impact to the understanding of TSC in research and/or impacted the delivery of clinical care for individuals with TSC. It is given in memory of Manuel R. Gomez, MD, the "Father of TSC" in the USA. Dr Gomez sparked interest in the diagnosis and clinical care of individuals with TSC. Julian and Chris received their awards at the 2017 International Research Conference on TSC and LAM in Washington DC.
Julian is a clinical geneticist working at the School of Medicine, Cardiff University. He led the international consortium that identified TSC2 and worked as a member of the consortium that identified TSC1. He made the first reports of contiguous deletion of TSC2 and PKD1 in patients with TSC and polycystic kidney disease and undertook genotypephenotype studies including the first report of differential severity of TSC1 and TSC2-associated disease. He subsequently led a team of researchers in Cardiff working on the cell biology of TSC and pre-clinical trials in transgenic mouse models and clinical trials. His group has provided DNA diagnostics for TSC in over 20 countries, including Australia.
Chris has been a consultant at the Sussex Kidney Unit of the Royal Sussex County Hospital since 1987. He specialises in renal and general internal medicine with a special interest in TSC. He helped set up the multidisciplinary TSC clinic at St George's Hospital, London. He has been an early architect of the international TSCure project chairing its steering group. Chris is an active TSC researcher (from natural history to clinical trials), with involvement in the TOSCA and the UK renal registries and the Exist-2 study. Chris has also served on the Board of the Tuberous Sclerosis Association in the United Kingdom since 1994 and is a former Chairman. He has been a superb advocate for the TSC community. He is incredibly accessible and supportive of the international TSC community and has travelled to Australia several times to share his knowledge with families and health professionals.
Beyond these achievements Chris is also a father to Lauren who has TSC.
"When I started on this path as a parent 31 years ago, it was not something I would have chosen or wanted. But along the way it has been my privilege to meet fantastic people, TSC families, researchers, clinicians and everyone at TSA. It has been a pleasure and privilege to work with such a fantastic team, but I would not have been able to do anything without the unfailing support of my family, especially my wife, Lesley." Chris Kingswood