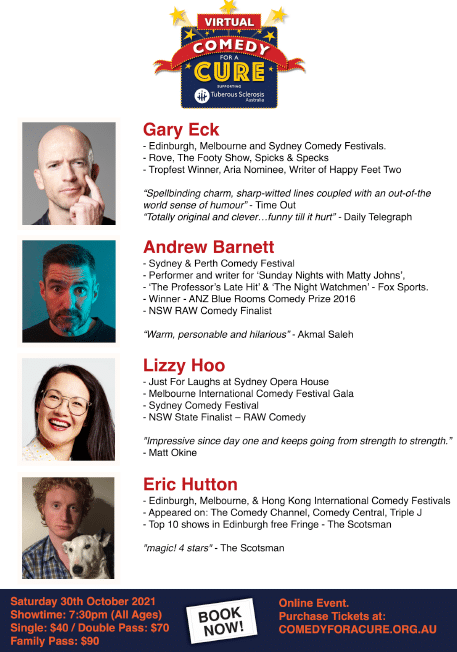 It's time to get your tickets for Comedy for a Cure!
Check out the hilarious comedians lined up to entertain you along with your family and friends.
No matter where in Australia you live, we can come together online and harness the power of laughter to raise vital funds to help improve the lives of individuals and families impacted by TSC.
This will be a fun night featuring some fantastic comedians with great prizes to be won. Prizes up for grabs include a Vuly Trampoline, original artworks by renowned Australian artists, beach side accommodation, wine and so much more! 
We hope you will choose to support our VIRTUAL Comedy for a Cure and encourage others to come along too.
Please click here to purchase your ticket today.
Your support will help TSA ensure children and adults living with TSC across Australia have access to ground-breaking new treatments and research that are taking us closer to a cure for this devastating disease.  
We look forward to seeing you there for a collective cyber chuckle.