This Christmas, give a gift of hope. By donating to TSA's Christmas Appeal you can give hope to families like Oskar's. Hope for the best life possible. Hope for new treatments. Hope for a cure.
Donate Now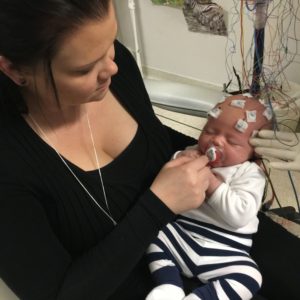 What is TSC?
Every year in Australia 50 babies will be born with Tuberous Sclerosis Complex (TSC). A disease that can cause tumours to grow on a baby's brain and heart and later in life on kidneys, lungs and skin. A disease that frequently causes severe epilepsy, autism and intellectual disabilities. There is no cure.
TSC is a devastating disease that most people have never even heard of. Two-thirds of those who receive a diagnosis have no family history of TSC.  Even many medical professionals have little knowledge of it and how best to treat it.
The good news is that advances in TSC research mean that earlier and targeted treatments can reduce the impact of the disease.
Why we need you
Tuberous Sclerosis Australia (TSA) is the only charity in Australia providing information and support to families who receive a TSC diagnosis.
TSA ensures that when someone is diagnosed with this incurable rare disease, they have somewhere to go and someone to call to answer their questions.  Someone who will understand their fears and the shock, isolation and grief that they may be feeling.
We continue to hear from parents of children with TSC that they wish that when their child was first diagnosed, their doctor had introduced them to TSA immediately for information, connection and support.
Oskar's story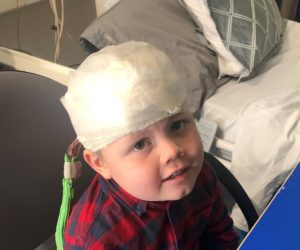 Oskar's mum, Miia says, "We first heard the terrifying words Tuberous Sclerosis Complex (TSC) during our 32-week scan when tumours were spotted on our unborn baby's heart.  Within a few whirlwind days, we had seen a cardiologist and a genetic counsellor who confirmed our baby had an 80% chance of having a devastating rare disease, TSC.
Genetic testing confirmed Oskar had TSC2.  It was a random spontaneous gene mutation, as neither of us has the gene.
TSC has impacted every aspect of our life. It has turned our world upside down.  But just knowing TSA is there helps us feel less alone.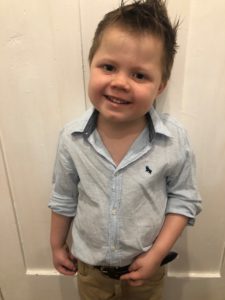 When our neurologist, Dr John Lawson, recommended we get in touch with TSA, we knew we could trust them. Having access to the information on TSA's website, and reading and hearing the stories of what life with TSC is like for others gives us comfort.
In the early days we felt so fortunate, Oskar only had one seizure at about 6 months old and the very next day he was started on Sabril which stopped his seizures for two years. However, then things took a turn for the worse. Oskar began having more and more seizures and despite trying 15 different treatments we cannot get good seizure control. He is now having up to 8 seizures every day.
While Oskar has a global developmental delay, he is doing well. His little brother, Archer, who is 20 months younger, has now overtaken him in most areas – although not as tall as his big brother! Oskar goes to kindy 3 days each week and loves it. He is starting to string words together, but then he has a seizure and it wipes his brain and we have to start over.
Our only hope may be brain surgery for our little boy.  A recent EEG showed a tuber on Oskar's right frontal lobe is kicking off the seizure activity and removing it may be our only option.
We feel incredibly scared. Life with TSC is so unpredictable. Just when you think things are going along well, seizures kick off again and you don't know what lies ahead. The prospect of surgery is made a little easier knowing we are in good hands with the expert team at Sydney Children's Hospital and that TSA and the TSC Community are there to support and guide us. By donating this Christmas you will help TSA continue to be a source of expertise and comfort that can share vital information about TSC with families like ours.
Thank you for considering helping families like ours this Christmas. Your donation will help give a better life and a more hopeful future to everyone affected by TSC".
How you can help
No-one should face the challenges of TSC alone. The information and support we provide families can transform their lives.
TSA needs to raise funds this Christmas to ensure we can continue to operate our Information Service in the new year. This vital service helps hundreds of families.  It connects families to TSC expert health professionals, introduces them to other families living with TSC and answers their questions.
TSA receives no on-going government funding and is the only charity in Australia dedicated to helping individuals with TSC.
Can you help us raise $10,000 so everyone living with TSC has someone to turn to in their time of need?
Feel good this Christmas 
Please donate if you can and help us connect, inform and support families with TSC. Your donation will make a positive change in the lives of everyone affected by this devastating disease.
If you can't afford to donate this year, we understand, but there are other ways you could help:
Suggest your family make a donation this Christmas instead of giving Christmas presents (just for the grownups of course!). You could pass around a donation bowl at your Christmas lunch and encourage everyone to chip in a little gift.
Share our appeal on social media and ask your friends and family to donate in honour of the person they know with TSC.
Talk to your employer about making a Christmas-time donation to TSA.
Thank you for giving the gift of hope to families like Oskar's
How your donation helps
$50    allows us to answer a single support or information request
A gift of $50 can connect families to our TSC Information Service to receive free advice about the importance of early intervention treatments and how to access them, which can change their child's life.
$100    allows individuals with TSC to connect
A gift of $100 can help an adult living with TSC attend an event to connect with others living with the condition, reducing their sense of isolation.
$500    allows us to update one of our medical information pages
A gift of $500 helps ensure our information is always up to date. Our medical information pages are the only source of accurate TSC information tailored to the needs of TSC patients and their families in Australia. The significant achievements of TSC research means that these information pages require regular revision.
$1000    allows us to invest in research
A gift of $1000 can help us support Australian participation in groundbreaking international research projects which are improving treatments and outcomes for people with TSC.
Your donation today will help us continue to provide our trusted information and support services to families living with TSC by:
Maintaining this website, the only online source of TSC information for families living in Australia
Providing phone and email support
Organising and hosting educational events throughout Australia
Advocating for improved services and treatment for families affected by TSC
Publishing and printing our magazine, Reach Out
Funding research into TSC in Australia
Our donors have also enabled TSA to champion these major research projects in Australia:
An international clinical trial of medicinal cannabis for epilepsy in TSC
Australian health economics study, examining out of pocket expenses of families with a child with TSC
SEALS Genetic Diagnostic Laboratory, the first laboratory in Australia to offer genetic testing for TSC
Funding an Australian clinical trial into a new medicine for the signs of TSC on the skin
The vast majority of your contributions go directly to providing these important services and research. Much of our work is done by volunteers, working in their homes. This keeps our costs low, and ensures your money goes directly to support people living with TSC. Your support, however big or small, is greatly appreciated.