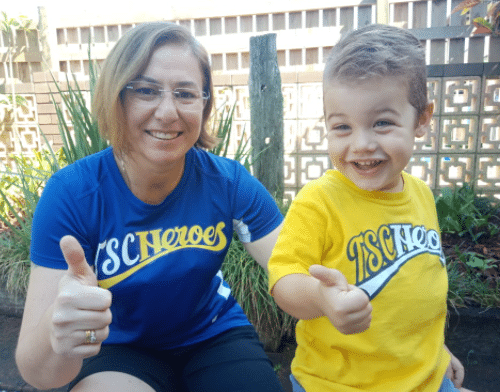 Be a Hero for Samuel
Please join me by becoming a hero for Samuel and making a donation in his honour to make a difference for children and families affected by the devastating rare disease TSC (Tuberous Sclerosis Complex). Please click here to donate now.
I have signed up to be a TSC Hero and will participate in Tassie's Burnie 10 on Sunday 29 October, 2023. This is a 10km road race and I've chosen to compete and support the great work of TSA (Tuberous Sclerosis Australia) who help and support families like Samuel's who lives with this complex genetic condition. TSC commonly causes brain and kidney tumours, epilepsy and autism.
For over 40 years TSA has been Australia's go-to resource for information, advice and support for families like Samuels's. Helping to create a better life and more hopeful future for everyone affected by TSC by providing information, support and connection.
Please help us to raise critically needed funds to help support children and families facing the enormous challenges of life with TSC by donating what you can.
Thank you so much, Melissa Maher xx
Amount raised
$2.00
0%
raised of
$500.00
Goal
Samuel's TSC Heroes
Thank you to everyone who has become a hero for anyone living with TSC by making a donation in Samuel's honour.