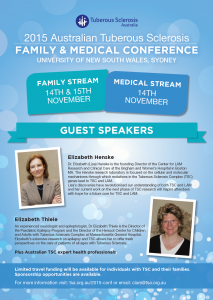 The 2015 Conference took place in Sydney on 14th and 15th November and brought together people with tuberous sclerosis, their families and healthcare professionals from around Australia to learn more about tuberous sclerosis and to connect with each other.
This event built on the success of similar large events held in conjunction with the TSC Clinic at The Sydney Children's Hospital in 2007 and 2011. We look forward to the next large conference and all our smaller local events in between. Thank you to everyone who came together to make the weekend event so great.
Thank you to our sponsors of this event
The conference was partially supported by an educational grant from Novartis Pharmaceuticals. Novartis provided no input to the content of the conference.
Watch conference sessions online